St. Louis Cardinals: Power ranking active former Cardinals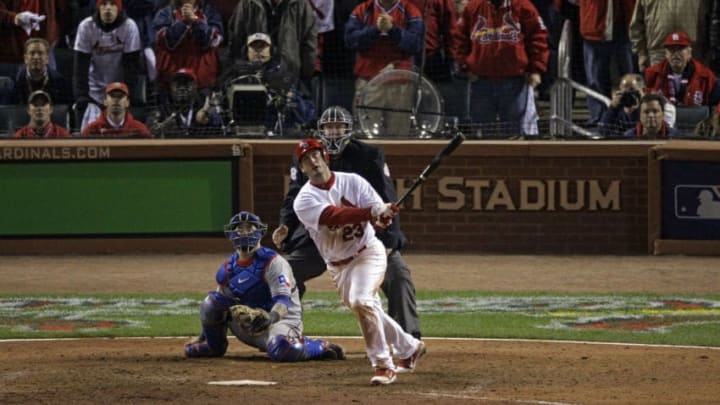 ST LOUIS, MO - OCTOBER 27: David Freese #23 of the St. Louis Cardinals hits a walk off solo home run in the 11th inning to win Game Six of the MLB World Series against the Texas Rangers at Busch Stadium on October 27, 2011 in St Louis, Missouri. The Cardinals won 10-9. (Photo by Rob Carr/Getty Images) /
ST. LOUIS, MO – SEPTEMBER 30: Stephen Piscotty /
Jason Heyward was a move forced by a very unfortunate situation. After league-wide top prospect Oscar Taveras was tragically killed in a car accident, the Cardinals sent Shelby Miller in a package to the Atlanta Braves for their young poster boy who was a year away from free agency.
In his year in St. Louis, Jason Heyward started the year extremely sluggish but finished the year batting .293 with 13 homers and an OPS just under .800 winning a Gold Glove in right field. Despite the slow start, that was just about all the Cardinals could've asked for from Heyward. We all just hoped he loved the city enough to stay.
Truth be told, the reaction for Heywards' at-bats in St. Louis may not be as loud as others earlier on this list, but I wanted to include him because he is one of the very few players that Cardinals fans consistently boo. The reason is not for him leaving, but the way he left-regardless of how glad fans may be that he didn't take our deal.
The Heyward Sweepstakes came down to the wire, but the Cardinals lost to the Cubs. When it came out afterward that the Cardinals had offered Heyward more than the 8 year/ $184M deal the Cubs offered, many were livid. Heyward then went on to insult the Cardinals core basically calling our team washed up. And now he gets booed.
Heyward's time in Chicago hasn't been great, as he has averaged just over 7 homers a year and a .253 BA with a .696 OPS. He even got benched during the majority of the Cubs World Series because he couldn't produce at the plate. Now at the age of 29, Heyward has started the year hot but will have to be amazing for the rest of the contract to make that deal worth it for the Cubs. He will be back at Busch plenty of times and will likely get booed each time.
Never change Cardinals fans-only we get to make fun of our team!
The Stephen Piscotty era in St. Louis was cut way short of what I think we all expected it to be. After coming up and tearing it up in 2015, Piscotty had a great year in 2016 then crashed and burned in 2017. It came out after the season that Piscotty was dealing with the weight of his Mother being diagnosed with ALS out in Oakland, California. Having something of this magnitude behind the scenes more than explains Piscotty's fall in every offensive category.
More from St Louis Cardinals News
Piscotty went from a former first-round draft pick with a world of potential to a player (understandably) distracted by life.
After the Cardinals acquired Marcell Ozuna after the 2017 season, they traded Piscotty to Oakland for Max Shrock and Yairo Munoz in one of the best all-around trades in a long time. Munoz has added great depth to the team and Piscotty had the chance to be with his mom when she passed away last year. He has returned to form offensively for the most part but you can't be mad about this trade as a Cardinals fan.
Piscotty will come back to Busch for a two-game series on June 25-26 and given that it is his first time back, I'm sure he will get a huge ovation.
Next up is a guy who a lot of Cardinals fans seem to be missing right now. Tommy Pham was a powder keg of a player who didn't hesitate to speak his mind, and I believe that is ultimately the reason why he isn't on the team anymore.
Tommy Pham would've made it to the Majors much before his short-lived debut in 2014 at the age of 26 had it not been for injury as well as a chronic eye condition. When he did find his groove he became one of the most productive players on the team. 2017 was the first year he had consistent AB's and he returned on the opportunity by hitting .306 with 23 homers and a .931 OPS.
Then before the start of the 2018 season, Pham spoke with Sports Illustrated about his career and the Cardinals in an article that came out on April 2, 2018. Pham was not exactly kind to Cardinals management and it was no surprise to see him traded to the Rays at the deadline for prospects (including Genesis Cabrera) who could turn out to be something special.
While Cabrera has a chance to be great, Pham has been the great outfielder the Cardinals wish they had in Dexter Fowler and Marcell Ozuna right now. Since the trade, Pham has hit .326 with a .979 OPS and 7 homers in 187 AB's. Wouldn't that be nice to have right now…
Pham won't return to St. Louis in 2019 but I am sure when Pham does return, fans will remember the grit and passion he has shown and give him the applause he deserves.