St. Louis Cardinals: Tommy Pham's words should evoke pride, gratitude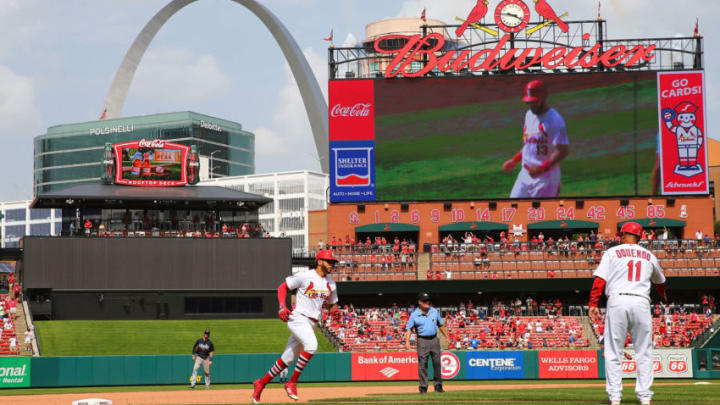 ST. LOUIS, MO - JULY 1: Tommy Pham #28 of the St. Louis Cardinals rounds the bases after hitting a two-run home run against the Atlanta Braves in the seventh inning at Busch Stadium on July 1, 2018 in St. Louis, Missouri. (Photo by Dilip Vishwanat/Getty Images) /
Tommy Pham has never been one to mince words or pull punches, and his most recent comments on the difference between the fan bases of the St. Louis Cardinals and the Tampa Bay Rays are characteristic of that nature. Some fans were worried about the lack of allure St. Louis had to some players, but this reaffirms Cardinals fans as a base respected by players.
"It sucks going from playing in front of a great fan base to a team with really no fan base at all," is how Tommy Pham started his comments on the difference between playing for the St. Louis Cardinals and his new team, the Tampa Bay Rays. Pham was traded by the Cardinals on July 31 for a package of players highlighted by southpaw prospect Genesis Cabrera.
Pham had spent his entire four-plus year career in St. Louis, which has always been known as a baseball town, so the switch to a much less invested Tampa crowd was certainly a culture shock. He didn't hold back his appreciation for Cardinals fans as he continued to expand on his point to MLB Network News.
From loyalty to excitement, Pham believes that Cardinals fans check all of the boxes. For a team that has missed out on elite talent several times in recent years, hearing this and the comments from Andrew Miller following his signing revives credence in the claims that the Cardinals are an attractive place to play, despite not being the largest market.
There are certainly numbers to back up Pham's comments. The St. Louis Cardinals have ranked top 3 in home attendance every year since Pham's first season in 2014. On the other hand, the Rays are not quite as popular at their home at Tropicana Field. Here is a side by side comparison of the team's attendance over the past five seasons:
| | | |
| --- | --- | --- |
| AVG Home attendance since Pham's debut (% Capacity) | St.Louis | Tampa Bay |
| 2014 | 43,711 (99.4) | 17,857 (52.4) |
| 2015 | 43,467 (98.8) | 15,403 (45.2) |
| 2016 | 42,524 (96.7) | 15,878 (46.6) |
| 2017 | 42,567 (96.8) | 15,670 (45.6) |
| 2018 | 42,019 (95.6) | 14,258 (41.8) |
While the lack of success over the past three seasons has caused numbers to gradually decline, the difference in both total attendance and attendance percentage between the two teams is still drastic. As a player, this difference is undoubtedly evident after playing in a > 95% capacity with over 40,000 people cheering, chanting, and the like for your entire career.
While Tropicana Field has a lower max capacity of 42,735, you can still tell when the stadium is half empty, and that emptiness is still felt by players just as it is by fans. Some players may be able to disregard the sounds of thunderous cheers as white noise, but even the lack of that white noise is distinct.
This is also a time where we can feel appreciative of the Cardinals front office in different respects. The St. Louis Cardinals have gone through multiple different Busch Stadiums without encountering many roadblocks or being unable to work around logistical and financial parameters. The team has been willing to do what it takes to keep the team in a good place in both of those aspects, which can be appreciated when looking at the Rays plight.
More from St Louis Cardinals News
Rays owner Stuart Sternberg, who made a new stadium his No. 1 priority since gaining control of the club in 2005, recently revealed that the latest attempt to plan a new stadium for the Rays has fallen through due to various issues, both monetary and otherwise. Now, the Rays' future in Tampa Bay is still up in the air, with their lease at Tropicana Field expiring in 2027.
It isn't just limited to baseball either. Look at the Raiders. They too were unable to work with the city of Oakland to keep the team in the Bay Area despite the ravenous fan support the Raiders receive there.
The St. Louis Cardinals have never had to deal with any of those pressures, or the fear that the team would be forced to leave. Whatever needed to be done to keep the Cardinals happy in the city of St. Louis was done, and that's something Cardinals fans shouldn't take for granted.
Tommy Pham's comments should not be seen as a slight to Rays fans, nor should it be seen as a reason for Cardinals fans to gloat over being considered a great place to play by many players. While they should evoke great pride, Pham's comments should also remind us of how respected and well run the St. Louis Cardinals organization is.