St. Louis Cardinals fans need this Rally Squirrel t-shirt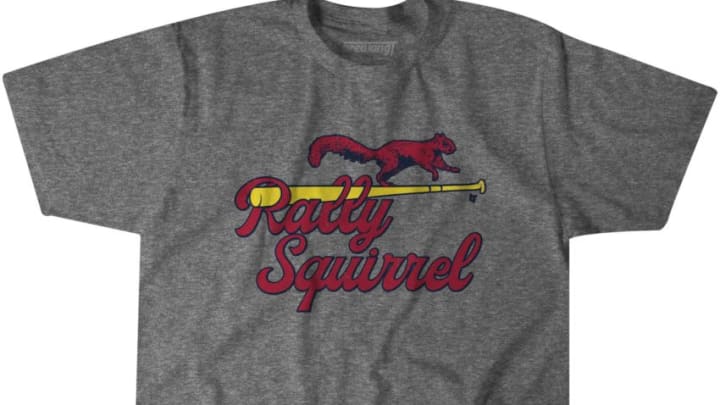 St. Louis Cardinals fans have an MVP candidate, are eyeing a playoff spot and now have a rally squirrel. Yeah, you read that right. And you can get a shirt, too.
The St. Louis Cardinals have a lot to be happy about. Matt Carpenter's insane second-half surge took him from a .160 hitter to the top of the MVP race. Carlos Martinez is back on the mound, now closing games. An impressive 84 wins has them eyeing a playoff berth.
And now, they have a rally squirrel. Again. 
The Rally Squirrel last appeared in 2011, clearly helping the St. Louis Cardinals to the World Series. The adorable, fluff-tailed animal was embraced by Cards fans and become somewhat of an unofficial mascot.
Now he's back. And BreakingT has fans covered.
Check out their Rally Squirrel t-shirt below.
BreakingT /
Seven years after it first appeared during a World Series season, the Rally Squirrel showed up again in St. Louis just in time for another pennant race.
This t-shirt is an officially licensed product of the Major League Baseball Players Association. It is only available at BreakingT and retails for just $27. It features blue, red and yellow print on a heather gray tee, which is made from a premium tri-blend of polyester, cotton and rayon.
So what does that mean? That means you're getting a super-soft, super-comfortable t-shirt.
Seriously, there's nothing better than a BreakingT shirt. They look great, they feel great and they're perfectly unique. Must-haves for any fan.
Head on over to BreakingT today and get your Rally Squirrel shirt for the playoff push.