St. Louis Cardinals: Introducing Matt Pearce, the next bulldog starting pitcher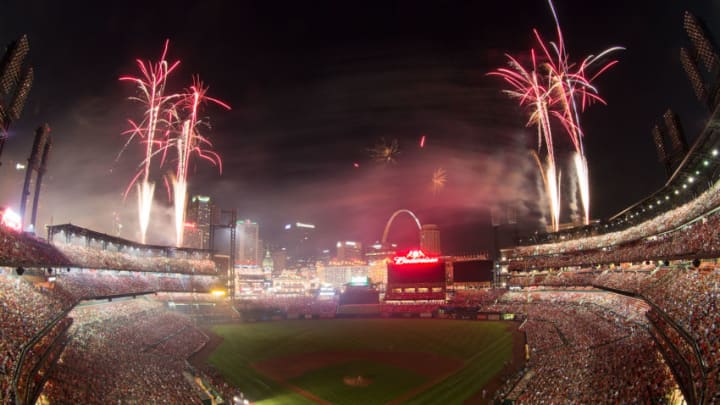 ST. LOUIS, MO - JULY 3: Fireworks are shot off to celebrate Independence Day after a game between the St. Louis Cardinals and the Miami Marlins at Busch Stadium on July 3, 2017 in St. Louis, Missouri. (Photo by Dilip Vishwanat/Getty Images) /
Many raved about the St. Louis Cardinals' pitching prospects coming into the season, especially on the Springfield staff. However, little was said about starter Matt Pearce. It is time to include his name among the other notable prospects.
You know the names Jack Flaherty, Sandy Alcantara, Dakota Hudson, and  Austin Gomber, but what about the St. Louis Cardinals' Matt Pearce?
Those were the words that came from the mouths of the St. Louis Cardinals faithful that keep track of the farm system. Four top-14 prospects and the overshadowed Matt Pearce fill out the starting rotation for the Springfield Cardinals. Fast forward halfway through the season and Pearce's name holds a little more weight than the others, sans Flaherty.
Am I saying Pearce should fly up the prospect rankings after one stellar half season? No. However, I believe St. Louis Cardinals fans should keep tabs on him as he could be the next Lance Lynn or John Lackey type of starter in the rotation.
Matt Pearce seems to fit the mold of a bulldog: An innings eater that can fight through adversity and get through at least six innings every start. This almost holds true looking at his 2017 game logs as a starter. In seventeen games, he has gone at least six innings in 13 games. He has also qualified for a decision in 16 of 17 games started.
The ability to stretch the limits and go deeper into games is often not found in minor league systems. In the Texas League alone, there have been only ten complete games thrown by a starting pitcher. Two of them come from the arm of Matt Pearce. While at Palm Beach in 2016, Pearce managed to go the distance four times.
More from St Louis Cardinals Prospects
In a baseball world full of precautionary tales of limiting the amount of innings a pitcher can throw each season, especially among highly touted prospects, Pearce attempts to be the outlier.
As a result, he has surpassed 100 pitches in six of his seventeen outings, with the fewest amount thrown coming in at eighty pitches.
Like other similarly styled pitchers, Pearce will not flash huge strikeout numbers or a ton of swing and misses. However, he continues to get the job done. His game-high for strikeouts this season is just seven, which he accumulated twice. He is also much more of a fly ball pitcher and not a ground ball guy, which makes it more interesting in how he can be so successful.
His line is: 9-5, 3.11 ERA, 110.0 IP, 66 K's, and 1.08 WHIP. He flat-out gets guys out and has been the same way throughout his professional career. His worst performances was his rookie season in Johnson City, and his short stint in Springfield last season when he sported a WHIP of 1.40 and 1.75, respectively.
Pearce shows another bulldog quality in his Left on Base Percentage. In 2017, he has managed to get it up to 77 percent, a career high, while having a career low BABIP of .259. All this shows there is merit to respecting what Pearce has done in 2017, and that he should garner more respect.
Going Forward
If it was not for the dominant showing from Jack Flaherty this season, Pearce would be a lock for the best pitcher in the organization in 2017. He has excelled in every aspect of the game. As a result, he was voted the Texas League Player of the Month and St. Louis Cardinals Minor League Pitcher of the Month for his fantastic showing in May. Pearce was also one of five Springfield Cardinals selected to the 2017 Texas League All-Star game.
Drafted in the 13th round of the 2014 Amateur draft, Pearce has moved through the system at a decent pace and could be a contender to appear on the big league roster at some point next season. It would not be shocking to see him make the jump to Memphis this year and be on their opening day roster next season.
Next: St. Louis Cardinals roster moves leave room for speculation
Nevertheless, Pearce has been a joy to watch in Springfield this season, and his emergence gives the St. Louis Cardinals more flexibility in trade talks going forward. If the front office feels confident in him, keep an eye out for him to step into the innings-eater role in the middle of starting rotation.