St. Louis Cardinals: Mike Mayers is pitching equivalent of Randal Grichuk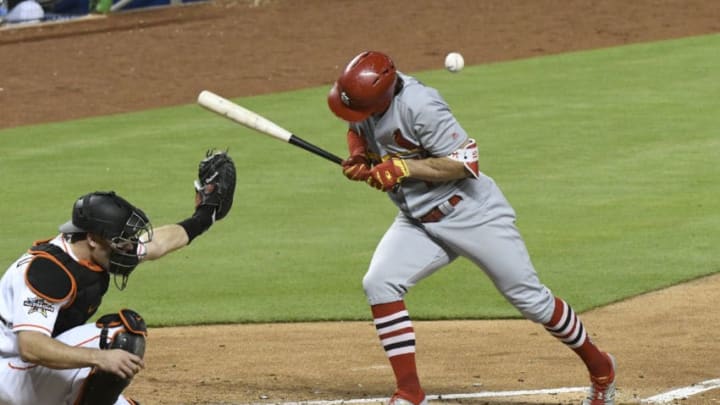 MIAMI, FL - MAY 09: Randal Grichuk #15 of the St. Louis Cardinals gets hit by a pitch in the 4th inning against the Miami Marlins at Marlins Park on May 9, 2017 in Miami, Florida. (Photo by Eric Espada/Getty Images) /
The St. Louis Cardinals handed out minor league pitcher of the month on Thursday of this week and the recipient, while deserving, illustrates yet another Cardinals frustration.
The St. Louis Cardinals announced on Thursday their selection of the minor league pitcher of the month. These internal awards come packaged with nothing but the recognition but are the sort of things that could add value for a player in a trade.
On Thursday, the Cardinals awarded Mike Mayers the award for the month of June. Mayers had just shortly before been optioned back to Memphis after a short stint of a call-up. To me, his call-up was to audition him for a trade and to reward him for his outstanding AAA numbers.
In the month of June, Mayers recorded two wins and one loss and carried a 0.72 ERA. Yes, you are reading that correctly: a 0.72 ERA. He pitched twenty-five innings in the month allowing eighteen hits, four walks, while striking out twenty-nine batters. Again, 25 innings with 29 Ks.
His basement ERA made him rocket to the top of the Triple-A pitcher rankings. Additionally, he recorded a 0.88 WHIP, which landed him at third overall for pitching in the Pacific Coast League of AAA.
Oh, and there's this little interesting nugget: in his four starts in the month, Mayers held opponents to one earned run or fewer all while recording a minimum of six strikeouts in each start.
See why he was promoted and auditioned for trade value? But that, in all honesty, is where the wheels fell off. After being called-up, Mayers was inserted into the June 29 game for the St. Louis Cardinals facing the Diamondbacks.
In one inning back in the Majors (Mayers imploded in his first MLB outing against the Dodgers, remember), Mayers pitched one inning, recorded one strikeout, allowed two hits (one a home run), allowed one earned run, and saw his ERA explode to 9.00 immediately. Ummmm, was this a good call-up?
But wait, there's more. In his second (and final appearance in this call-up), Mayers was inserted in the July 2 game for the St. Louis Cardinals to face the Washington Nationals. He fared better in this outing lasting three innings, striking out one, allowing two runs (one earned), walking three (YIKES), and allowing only two hits. This outing lowered the ballooned 9.00 ERA to drop to 4.50.
Mayers was then sent back to Memphis as a trade-off to bring the return of the Jedi, Luke Weaver, back to the St. Louis Cardinals.
But I would be remiss if I stopped the article there. Why? Quite simply, to me, Mike Mayers epitomizes the struggles faced by another St. Louis Cardinals player: Randal Grichuk. To me, both of these players flourish at the AAA-level but cannot, for whatever reason, manage to produce consistently at in the Majors.
In all of his starts in AAA, Mayers- as is witnessed in the numbers above- is dominant. Then, when he is promoted, he fails to show that same dominance. Grichuk is very similar. When Grichuk came to the St. Louis Cardinals, he had been a powerful addition who had flashed in the Angels' minor league system. He continued the flash in the Cardinals system only to fail to flash in St. Louis.
Mayers, to his credit, carried a 3.40 ERA in 2014 in the minors, a 3.19 ERA in 2016 in the minors, but- not to his credit- exploded into a 27.00 ERA with the St. Louis Cardinals in his extremely short stay in 2016.
Similarly, Grichuk carries a AAA career slash of .262/.310/.516. These numbers would be nice to see in St. Louis, and, while he has had some success (so has Mayers), he has struggled more than he has succeeded at the plate. To this end, Grichuk is currently carrying a 2017 slash of .220/.276/.407. Where did the AAA slash go?
More from St Louis Cardinals News
Moreover, during his "demotion" this season, Grichuk exploded in AAA yet again. In his limited sixty-three at-bats with Memphis, Randal posted an impressive slash of .270/.313/.603. Yes, you are reading that correctly: .603! Had THAT player come to the St. Louis Cardinals, Josh McDonald would not be the only person in the Grichuk fan club not there for Randal's gorgeously good looks.
These things leave me with the impression that, as the title suggests, Grichuk and Mayers are cut from the same cloth. This cursed cloth that makes a player an outstanding AAA player but flawed to success in the Majors. In both cases then, neither- in my opinion, sorry Josh- should be wearing the birds on the bat.
Sadly, this means that neither player carries a great deal of value other than as a promising prospect (and I'm worried that is being generous). Of the two, I think that Mayers might attract a greater interest from another team due to his limited exposure. Grichuk, however, might leave another team less interested since he has had ample time to show that he can or cannot hack it in the Majors.
All that aside, perhaps a move to another team- and consequently away from John Mabry– would be exactly what Grichuk needs– similar to the success that Matt Adams is seeing away from Mabry. Perhaps there another team will find interest.