St. Louis Cardinals Rumors: Making a Case for Ben Revere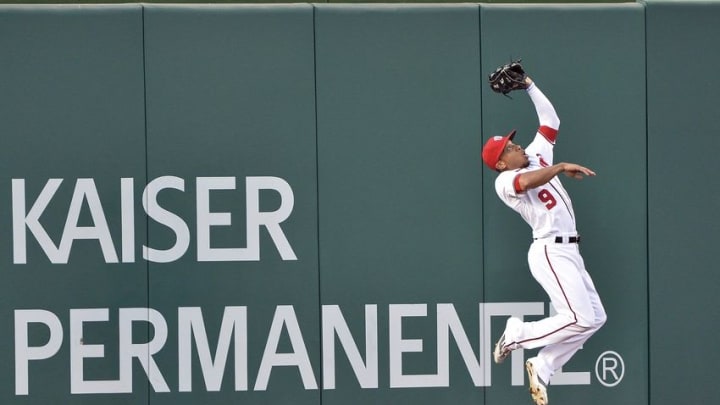 Tommy Gilligan-USA TODAY Sports /
With a competitive market for center field free agents, the St. Louis Cardinals might have to go under the radar to find a 2017 fit.
What if the St. Louis Cardinals could acquire an outfielder who hit .303 from 2012 to 2015? What if that player held a reputation for making electric plays in the outfield? But what if that player was coming off an injury-riddled 2016 season which saw him struggle to a .217 average?
That player is Ben Revere, and he fits the mold of the low-cost, low-risk, but solid-upside-type free agent signing that we have seen so often by the St. Louis Cardinals in recent offseasons.
Ben Revere struggled mightily in his first season with the Washington Nationals after injuring his oblique in his first game with the new team. While attempting to stay on the field and cope with the injury, Revere admitted to taking on some bad habits and struggling to find a rhythm.
The result was a non-tender from the Nationals and an interesting buy-low candidate for anyone in search of outfield help. Ben Revere will only be 29 next season, a good sign for his potential to bounce back from a difficult year.
Prior to last season, Ben Revere had developed a reputation as a consistent contact hitter. He has remained an average or slightly below average hitter as measured by OPS+, due largely to the lack of pop in his bat. His best offensive season was actually as recent as 2015, when he slashed .306/.342/.377 with the Philadelphia Phillies and Toronto Blue Jays.
Revere has logged nearly four thousand innings in center field to this point in his career, but has also spent over one thousand innings in left field and more than eight hundred in right field. His best seasons defensively were 2011 and 2012, when he posted a UZR of 10.0 and 14.9, respectively.
Unfortunately, Revere's days as a top defensive center fielder appear to be behind him. He posted a negative UZR each year from 2013 through 2015, before managing a 0.6 UZR in limited time in 2016. This drop is largely due to a decline in Revere's range in the outfield, as his RngR (Range runs above average) went from a high of 15.2 to a low of -1.7 in 2015.
Despite this apparent decline, there are reasons to believe Ben Revere will bounce back to a solid 2017. First off, it is more probable that the hitter a healthy Ben Revere can expect to be in his age 29 season will look more like the 2012 to 2015 hitter than the 2016 injury-plagued one. Steamer projects him to hit .281/.318/.359 in 2017, essentially in line with his career averages.
Trying to define how Revere would help the St. Louis Cardinals outfield defense is a little bit more complicated. With his apparent loss of range, Revere would not be an upgrade defensively over Randal Grichuk in center. However, moving Revere to full-time left field would likely mean improvement for the 2017 Cardinals defense.
While Ben Revere's UZR/150 in center was -1.1 in 2016, his UZR/150 in left field was 6.3. This suggests that his defensive profile plays better in left field at this stage in his career than in center.
More importantly, this ranks much better than Matt Holliday, whose UZR/150 in left during 2016 was -11.7. He ranked just below Brandon Moss in this category, who had a UZR/150 of 6.9 in left. Unfortunately, neither of these players will return to the Cardinals in 2017.
At the current stage, Tommy Pham is the most likely in-house player to take over duties in left field next year. Pham's UZR/150 in left field for 2016 was -1.4, suggesting Revere would be a significant defensive improvement here. Steamer projects Pham to bat .252/.325/.397, essentially a wash with Revere's projections.
More from St Louis Cardinals Rumors
For the St. Louis Cardinals, signing Ben Revere might be the opposite of what many fans are hoping for. He isn't flashy, his name won't make headlines, and his deal won't break any records. Yet, Revere could bring solid value to the 2017 team as a steady offensive bat and as a veteran presence in a young outfield. Inserting him in left field would require keeping Randal Grichuk in center, but would likely improve the overall outfield defense.
Additionally, coming off a down year in which he only made $6.25 million, Revere likely won't get a high dollar contract in a year when many other outfield free agents are projected to cash in big.
For the St. Louis Cardinals, Ben Revere could make sense. Signing Revere won't prevent the Cardinals from pursuing other bigger name free agents, and his presence on the roster won't prevent rising prospects from getting a chance with the Major League team. While I hope he isn't the best player the Cardinals acquire this offseason, I think he could be a strong add for the 2017 team.