St. Louis Cardinals: Arizona Fall League Check-in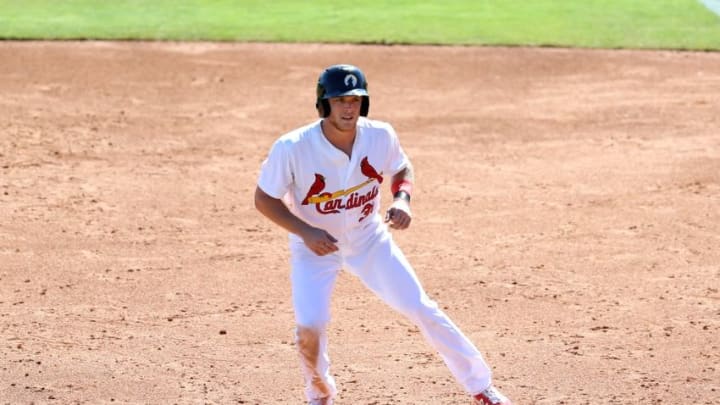 Oct 11, 2016; Glendale, AZ, USA; Glendale Desert Dogs outfielder Harrison Bader of the St. Louis Cardinals during an Arizona Fall League game against the Scottsdale Scorpions at Camelback Ranch. Mandatory Credit: Mark J. Rebilas-USA TODAY Sports /
True, the St. Louis Cardinals are not in post-season play, but they do have a great deal riding on results of their prospects in the Arizona Fall League.
The St. Louis Cardinals have historically used the Arizona Fall League as a testing ground and a place where they send their promising prospects to get more work rather than sitting out resting.  This season's AFL has rising pitcher Austin Gomber, promising outfielder Harrison Bader, and Yadier Molina's heir Carson Kelly all showing their progress.
These players are not facing MLB talent in the AFL but they are facing the best of the promising players from each organization as those players are also working to show what they are made of in hopes of breaking into the majors.  That said, let's look at how these three players are doing.
First up, Austin Gomber.  Gomber is an exciting arm of the future for the St. Louis Cardinals. Gomber was drafted in the fourth round of the 2014 draft out of Florida Atlantic University.  In 2016, he made a splash or two during spring training and then went on to pitch for Palm Beach and Springfield for a 2016 ERA of 2.69.
In AFL play, Gomber has started two games and has a 1-0 record across seven innings.  In these two games, Gomber has surrendered five hits and three earned runs.  He has struck out nine batters and walked only three.  All of these things have contributed to his AFL WHIP of 1.14.  We should all keep an eye on this arm this fall and into 2017 as he could likely find much time in Memphis in 2017.
Next up is Harrison Bader.  The St. Louis Cardinals have made it clear that they desire an improvement in their MLB outfield and many in Cardinals Nation feel that Bader just might be the salve for that ailment. Bader was drafted in the third round of the 2015 draft out of the University of Florida.  He rose to AAA Memphis in 2016 and posted a slash line of .267/.335/.452 between Memphis and Springfield.
In AFL play, Bader has appeared in four games and fifteen at-bats.  He has recorded six hits and five runs in these four games.  Of these hits, he has recorded one double and one home run accounting for two recorded RBI. In addition to these nice stats, Bader has swipped one base showing off his speed.  His AFL slash line is .400/.471/.667.  Look for Bader to be a real challenger in spring training for an MLB spot!
Last but not least, Carson Kelly is the rising catcher who should spell the replacement for Yadier whenever (God-forbid) Molina calls it quits.  Kelly was drafted by the St. Louis Cardinals in the second round of the 2012 draft out of Westview High School in Portland, OR.  Kelly made his MLB debut in 2016 during September call-ups and posted a slash line of .154/.214/.231 in thirteen at-bats.
In 2016, Kelly played the bulk of his time with AAA Memphis and Springfield where he appeared in 329 at-bats recording 95 hits for a slash line of .289/.343/.395.  At just 21 years old, Kelly is impressing the organization with his abilities behind the plate with only his at-the-plate numbers needing improvement.  Enter AFL play.
More from St Louis Cardinals Prospects
In AFL play, Kelly has appeared in five games and eighteen at-bats (five more than his MLB appearances in 2016).  In these, he has recorded five hits, one home run, five RBI, two strikeouts, and two walks.  His AFL slash line is .278/.318/.444.  Kelly is showing some progress but I would imagine that the organization would like to see even more from him.  We should keep an eye on him through the remainder of AFL play to see if he can raise eyebrows.
All-in-all these are three players to watch.  Of the three, Kelly is not impressing as much as Bader and Gomber with Bader taking the cake thus far.  All three of these names could well begin the 2017 campaign with Memphis but might play into the Cardinals plans in other ways as well.
My predictions… Gomber will spend the entirety of 2017 between Springfield and Memphis.  Bader will likely start in Memphis unless he is traded this winter.  Kelly will either start in Memphis or be the defacto backup to Yadi in St. Louis.  In all honesty, rising to backup might be the best option for the future of Kelly's career if the Cards are willing to take the risk.
Stay tuned with us for more updates throughout the AFL and as we approach the winter meetings.  Go Cardinals!