St. Louis Cardinals: More reasons to hate Great American Ballpark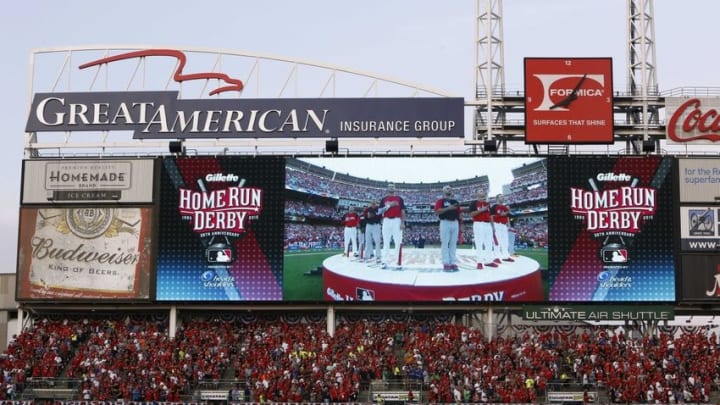 Jul 13, 2015; Cincinnati, OH, USA; General view of the video board as the home run derby participants stand for the National Anthem prior to the 2015 Home Run Derby the day before the MLB All Star Game at Great American Ballpark. Mandatory Credit: David Kohl-USA TODAY Sports /
The St. Louis Cardinals have dropped the first two games in this series at the Great American Ballpark in Cincinnati despite being a home run heavy team in a home run friendly park.
I hate the Cincinnati ballpark.  There, I said it.  Let me admit that I have never attended a game at the Great American Ballpark and that I very likely would love the confines if I did.  I do admit that but I must also admit that I have never liked when the St. Louis Cardinals have played in this park that favors the long ball.
Fast-forward to this season when the St. Louis Cardinals are presenting as a home run heavy, home run friendly team, and I should look forward to playing in Cincinnati, right?  That would be logic and reason but these past two games have disappointed and defied logic and reason.
Let's take a look.  In 2016, the St. Louis Cardinals are 7-7 when facing Cincinnati.  The birds have gone 4-2 against the Reds at Busch Stadium and are now sitting 3-5 when appearing at the Great American Ballpark.  This defies the fact that the Cardinals have the best road record in MLB.
In 2015, the St. Louis Cardinals were 12-7 against the Reds.  This broke down as 8-2 in Busch Stadium and 4-5 in the Great American Ballpark.  I hated playing in Cincinnati last season and even before as this park always seemed to help the Reds smash home runs.  I have always called this park the "Great American Ping Pong."
The St. Louis Cardinals, to add insult to injury, own a lifetime record of 56-62 when playing in Cincinnati.  That sucks, right?  See my frustration?  Let me explain why I call this park a ping pong park.  According to many sources, Bleacher Report included, the Cincinnati park ranks in the top ten of home run friendly parks.
Each year, the Great American Ballpark allows in the neighborhood of two hundred season home runs.  This might be due to the dimensions which sit at 328 feet in left field and a mere 325 feet in right field.  The 200-home-run mark might also be attributed to the park's proximity to the Ohio River which helps with the air quality– an influence on balls in flight.
An ESPN article written in early 2015, noted that, "from 2012 to 2014, no venue has been more homer-friendly; Great American inflated home run production by 40 percent, more than Coors (36 percent)."  40 percent increase?!  We must admit this is due to good players but we must also admit that this is due to the ping-pong-quality of GABP.
More from St Louis Cardinals News
So shouldn't this season's St. Louis Cardinals flourish then in GABP?  Shouldn't this season's Cardinals, who currently have hit 192 team home runs (third in the MLB), blast off in GABP?  Shouldn't we hope for this when the Cardinals roll into a stadium that has witnessed 192 home runs hit (second in the MLB behind only the Orioles park which has watch 195 home runs)?
And yet, this hasn't been the case.  Not this season and not these past two games.  Okay, okay, true, the St. Louis Cardinals were able to produce two home runs on Friday night (Yadier Molina and Randal Grichuk) and one home run yesterday (Jedd Gyorko).  These homers kept the team home run streak alive at twenty-two games (a franchise record).
And yet (see a trend here?), these home runs were not enough to secure wins.  Frustrated yet?  I know I am.  But should we be frustrated?  The 2016 St. Louis Cardinals have been a mercurial team to say the least going from wins to losses against teams not thought of as easy-win or tough-losses.  It just doesn't make sense.
Carlos Martinez, our 2016 ace, takes the mound in today's game.  He should be able to hold batters at bay and keep the Reds from hitting home runs in their ping pong park.  Let us hope that the franchise record can continue today and that the St. Louis Cardinals take advantage of the home run friendly park.
Stay with us today on Twitter and Facebook and let us know your thoughts during the game!  Go Cardinals, get a win, and get out of this frustrating park quickly!