St. Louis Cardinals: Interesting news from Memphis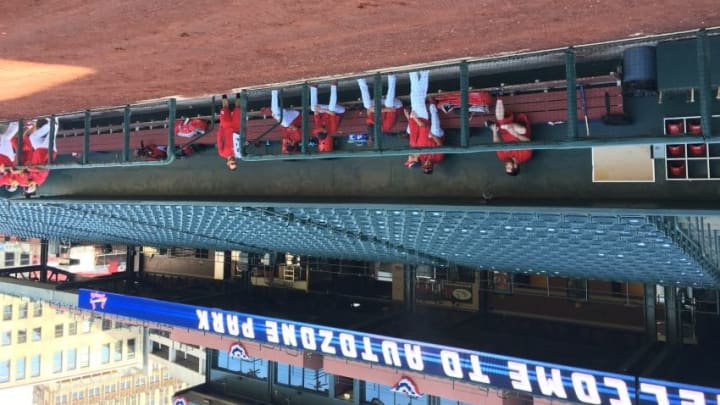 Media Day at Memphis Redbirds, AutoZone Park, Memphis, TNPhoto credit: Dr. Michael D. Miles, 2016 /
Yesterday I lived a dreamed by joining the media for media day at AutoZone Park in Memphis as a writer myself covering this aspect of the St. Louis Cardinals.  I had the joy of interviewing several players and learned some interesting things from Memphis Manager Mike Shildt.
If you have never visited AutoZone Park in Memphis, TN, then you are missing out.  If you have been to Busch Stadium in St. Louis to watch the St. Louis Cardinals, then you owe yourself the visit to what is often known as "Little Busch."  This place is magnificent.
I have watched many games in this stadium but yesterday was the first time that I stood as a member of the media on the field for media day.  What a dream-come-true!  And it was wonderful; all aspects of this day– the weather, the field conditions, the players to interview, etc.  Over the coming days, I will write recaps of the interviews that I conducted today.
In preparation for this day, the media relations staff in Memphis asked each member of the media to submit names that he/she would like to interview.
I submitted the following pitchers: Marco Gonzales, Deck McGuire, Miguel Socolovich, and Sam Tuivailala.
I submitted the following position players to interview: Jacob Wilson, Patrick Wisdom, Charlie Tilson, and Carlos Peguero.
I was able to interview McGuire, Wilson, Wisdom, Dean Anna, and Manager Mike Shildt.  All were great interviews and I look forward to sharing them with you.  Stay tuned for these.
During my interview with Shildt, I learned why I was unable to interview Marco.  I and another reporter asked about Marco and we were told that he simply wasn't with the team right then (this was the response from the media relations staff).  Shildt let it slip that Marco and Tim Cooney were on the disabled list dealing with different health issues.
I immediately jumped on Twitter to see if I could find anything related to this.  All I could locate was this:
I quickly alerted our writing staff here at Redbird Rants and our editor shared the following tweet:
We need to note immediately here that nothing has been confirmed by the team (Cardinals or Redbirds).  Marco's own player page at the Redbirds site still lists him as Active.  That said, I feel hearing this from Shildt is as good as gold.
More from St Louis Cardinals News
After dropping this bomb, Shildt let us know that McGuire would take the mound in Marco's place as the opening night starter.  Opening night is this Thursday and I am excited for this.  Shildt praised McGuire's repertoire and felt that he and the rest of the rotation in Memphis (even without Marco and Cooney) have a great season in front of them.
I asked Shildt if he was excited to utilize the speed that has been handed to him.  To this, Shildt asked if I was referencing his speed, and, after we laughed, he shared that this season's Memphis Redbirds will continue the baserunning aggressiveness witnessed last season.  Furthermore, he praised Tilson and Matt Williams as speedsters and said to watch for them.
I hope this aggressiveness influences the Cardinals and shows us all what is waiting in the wings.  The Cardinals, as was noted this spring, need the influence of speed.  Perhaps Tilson and Williams (and perhaps others too) will address this need.
Next: Tommy Pham to disabled list, again
I'm counting down the days until the excitement of opening day hits Memphis.  Thursday will be an outstanding day.  Look for my posts this week as I recap the interviews from today as well as recaps for the talent that is awaiting the call to the bigs.