St. Louis Cardinals: 2016 Major League Baseball Predictions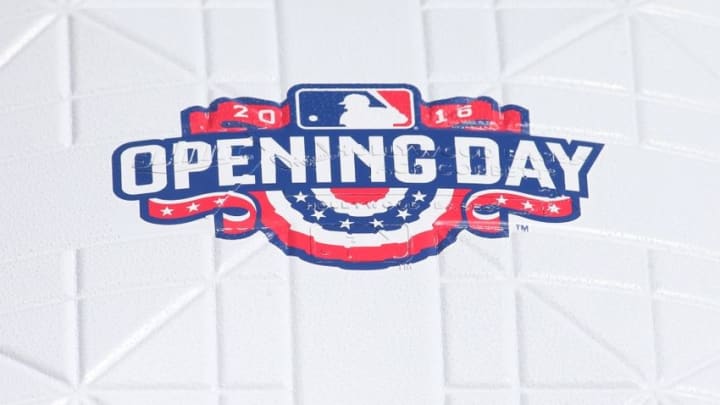 Apr 3, 2016; Pittsburgh, PA, USA; Detail view of a base to be used in the 2016 Opening Day baseball game between the Pittsburgh Pirates and the St. Louis Cardinals at PNC Park. Mandatory Credit: Charles LeClaire-USA TODAY Sports /
It's Opening Day for a few MLB teams including my beloved St. Louis Cardinals and that means it's time to make my annual preseason baseball predictions for who will make the postseason.
I won't really predict awards as it is hard to tell with Rookie of the Year given how so many teams won't call up their best prospects until June so as to have an additional year of team control but I've been a fan of Minnesota Twins prospect Byron Buxton for a number of seasons now.
As far as the Cy Young race, there's no doubt that the St. Loius Cardinals' Adam Wainwright will make his name known in the race and will be competing with the likes of Clayton Kershaw. I hope there is a Cardinals player in the MVP race but it's hard to tell who that will be at the moment.
I'll be honest. I moved in February so I haven't paid as much attention to off-season trades and whatnot as I would have liked.
National League
East: New York Mets
Central: St. Louis Cardinals
West: San Francisco Giants
Wild Card 1: Chicago Cubs
Wild Card 2: Washington Nationals
NLDS
St. Louis Cardinals over Chicago Cubs
San Francisco Giants over New York Mets
NLCS
St. Louis Cardinals over San Francisco Giants
American League
East: Toronto Blue Jays
Central: Kansas City Royals
West: Houston Astros
Wild Card 1: Detroit Tigers
Wild Card 2: Cleveland Indians
ALDS
Toronto Blue Jays over Detroit Tigers
Kansas City Royals over Houston Astros
ALCS
Toronto Blue Jays over Kansas City Royals
World Series
St. Louis Cardinals over Toronto Blue Jays
Next: Why the St. Louis Cardinals can Win the World Series
It's an even-numbered year and if the trend holds, this year means the Cardinals or the Giants should be playing a big role in the National League pennant winner. A lot can and will happen–that's the beauty of this fine game that we love. It's a long year and there are 162 games to be played.