This pitcher could be the St. Louis Cardinals' next mega prospect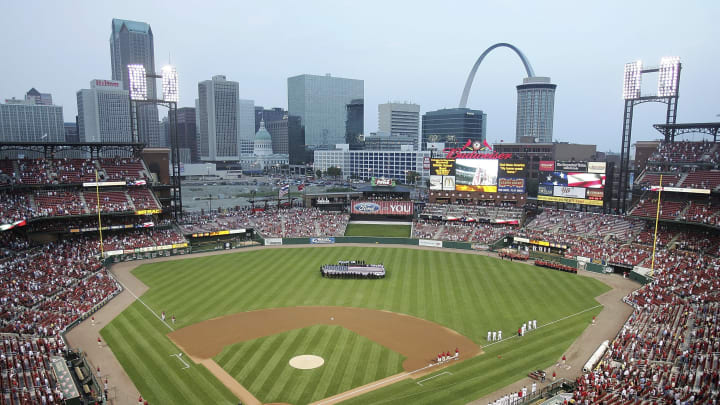 Houston Astros v St. Louis Cardinals / Elsa/GettyImages
Right-handed pitcher Inohan Paniagua looks poised to join the upper echelon of the St. Louis Cardinals' prospect rankings.
In 2022, every St. Louis Cardinals prospect buff's eyes were rightly on Jordan Walker and Masyn Winn. Next season, another minor leaguer could be turning heads among the fanbase.
Inohan Paniagua is a 6-foot, 1-inch right-handed pitcher from the Dominican Republic who broke out in 2021 at Low-A Palm Beach, pitching mostly out of the bullpen. In 46.1 innings, Paniagua had a 3.88 ERA and notched 62 strikeouts. He built on that success in 2022 after transitioning to a full-time starting role. Before his promotion to High-A Peoria on July 26, Paniagua was leading the Florida State League in ERA (2.18), innings pitched (99), strikeouts (107) and quality starts (14).
Paniagua wasn't as effective in his 38.2 innings in Peoria: His walk rate jumped from 2.1 free passes per nine innings to 3.7, and he surrendered eight home runs compared with the four he gave up in more than twice as many innings in Palm Beach. Nevertheless, Paniagua showed promise, especially in his 6.1 no-hit innings on Aug. 14.
Paniagua has displayed a commendable work ethic, spending much of the offseason after 2021 at the Cardinals' academy in the Dominican Republic and returning there three weeks before Spring Training began in 2022. He also understands the nuances of pitching and the strategies of attacking hitters. His arsenal consists of a devastating curveball that he commands well and that has around 56 inches of drop, a fastball that he can amp up to 96 mph, and a nascent changeup.
At only 148 pounds, Paniagua has room to add muscle, which would improve his fastball velocity and make it more difficult for hitters to sit on his curveball. His changeup is still in need of refinement but could grow into a decent third offering.
The Cardinals left Paniagua exposed in the Rule 5 draft in December, but somewhat surprisingly, no teams scooped him up. The Cardinals might have caught a break there, as the cupboard is bare for the team's 2024 rotation. If Paniagua continues to make strides, he could be an option for the Cardinals down the road. But even if he doesn't crack the rotation, he has the ability to excel in a high-leverage bullpen role.
The 22-year-old still has time on his side and should be a good bet to excel in his second exposure to High-A given his skills, work ethic and desire to succeed. While Tink Hence is currently the Cardinals' most exciting mound presence on the farm, look for more fans to know Paniagua's name as the 2023 season unfolds.