Astros' Jose Urquidy a good fit for St. Louis Cardinals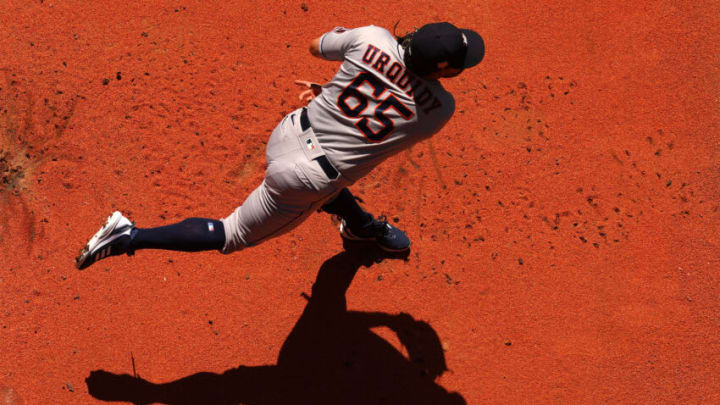 SEATTLE, WASHINGTON - APRIL 17: Jose Urquidy #65 of the Houston Astros warms up before the game against the Seattle Mariners at T-Mobile Park on April 17, 2022 in Seattle, Washington. (Photo by Abbie Parr/Getty Images) /
The St. Louis Cardinals continue their pursuit of pitching ahead of the trade deadline.  Another recent option has cropped up who would be a very nice fit.
There have been plenty of articles posted here about potential pitching acquisitions the Cardinals could pursue.  That makes perfect sense since August 2 is the final day for teams to make trades for players who would be eligible for their postseason rosters.
A few new pitchers introduced to the market have more than the usual amount of team control remaining.  Unlike the Angels' Noah Syndergaard and Pirates' Jose Quintana, who would be two-month rentals, or the Reds' Luis Castillo and Tyler Mahle or A's Frankie Montas, who are arbitration-eligible through the end of next season before reaching free agency, these hurlers recently made available have multiple full seasons of control remaining.
The Tigers threw Tarik Skubal's name out there recently, the Guardians have put Zach Plesac in play, and the Marlins admitted Pablo Lopez could be had for the right price, with all of those teams in need of hitting.  While Detroit's and Cleveland's needs line up well with the Cardinals' excesses of talent, Miami's requirements are less well aligned.
And then there's the Astros' Jose Urquidy.  While Houston reportedly is looking for center field and catching help, which currently isn't a great pairing for St. Louis, there also is talk that first base or corner-outfield assistance would appeal to the 'Stros.  Now that's a need the Cardinals are more than able to meet.
First let's look at the appeal of Urquidy.  He hasn't had an ERA as high as 4.00 in any of his four partial MLB seasons.  And as MLB Trade Rumors pointed out, since his MLB debut he's tenth in walk rate among pitchers with 250-plus innings pitched.  And Urquidy won't be a free agent until after the 2025 season, given an acquiring team over three full seasons of service.
On the negative side, Urquidy isn't much of a strikeout pitcher, punching out just 18.2% of batters this year and 19.8% for his career.  His 34.5% groundball rate seems terrifying for a pitcher with Houston's Crawford Boxes beyond the left field wall, but he's made it work so far, and a move to St. Louis' spacious park with its elite outfield would prove beneficial.  Urquidy hasn't made more than 20 starts in a season or topped 107 innings pitched, though at 18 starts this year and 100-2/3 frames, he's quite likely to blow past both of his prior high-water marks.
Of course, there's the question of cost to bring Urquidy to the Gateway City.  If the Astros are looking for MLB-ready thump, there's Juan Yepez, with Alec Burleson knocking on the MLB doorstep in Triple-A Memphis.  A young pitcher to add to the enticement, such as Zack Thompson, Michael McGreevy, or Tink Hence, could seal the deal.  But again, competition would be stiff for the young hurler's services.
Everything points to the Cardinals bringing in at least one starting pitcher by Tuesday.  Whether that's Urquidy or another among those listed above, it's a glaring need.  Hopefully, the St. Louis front office will reward the fanbase's loyalty with a trade to bolster this fall's playoff chances – and possibly the odds for multiple seasons to come.