Tony La Russa: St. Louis Cardinals' front office is "toxic"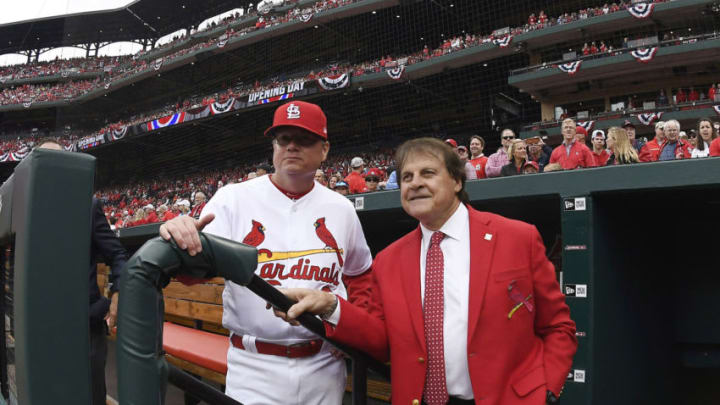 Apr 5, 2019; St. Louis, MO, USA; St. Louis Cardinals manager Mike Shildt (8) talks with former manager Tony LaRussa prior to the Cardinals home opener against the San Diego Padres at Busch Stadium. Mandatory Credit: Jeff Curry-USA TODAY Sports /
Tony La Russa, the winningest manager in St. Louis Cardinals' history, did not mince words in Bob Nightengale's story on Mike Shildt.
Major League Baseball can be a cruel business. Mike Shildt found this out the hard way when he was unexpectedly fired as manager of the Cardinals. Despite a seventeen-game winning streak and a third-straight postseason appearance, John Mozeliak relieved Shildt of his duties for "philosophical differences". That did not stop Tony La Russa from coming to Shildt's defense.
In Bob Nightengale's recent story on Mike Shildt, there are still many hurt feelings inside of the former Cardinals skipper. Using terms such as "broken heart" and "inconsolable", Shildt conveys the pain he felt after being relieved of his duties.
Shildt's comments on the moment he was dismissed are quite ominous.
""I was getting on the phone with the thought it was going to be about a contract extension," Shildt said. "I had one more year on my contract. So I was looking at some of the numbers of the last three years, feeling about them, and then Mo started talking.Mozeliak opened up the call by saying, "Mike, this conversation isn't going to go the way you think it's going to go.""
What an inauspicious was to start a conversation.
If that did not raise your eyebrows, then Tony La Russa's comments will. When speaking about Shildt's firing, La Russa said he received word from an unknown source inside the Cardinals organization that there is a "toxic environment".
"My comment was that if it was toxic, it must be the front office. … I'm for the Cardinals. Everybody makes their own decision. But when you start talking about that, it might damage his chance to manage again for those that don't know any better. He did a hell of a job."
So what can we take away from this?
Clearly, the hurt from the firing has not left Mike Shildt, but who could blame him. Shildt was a man who dedicated eighteen years to the Cardinals, worked his way to the manager position despite no professional playing experience, and led the team back to the postseason after three years of being on the outside looking in.
It's human nature to be disappointed after being removed from a position unexpectedly after years of hard work, but does that directly mean the Cardinals are a toxic environment?
Remember, Mozeliak fired Shildt due to "philosophical differences", and it was speculated by Katie Woo at The Athletic that Shildt was apprehensive of using data-driven analytics instead of basic fundamental baseball tactics. It was also speculated that Jeff Albert's role in the organization was something Shildt was not fond of.
This could all be heresy on the part of Tony La Russa backing up a now-former managerial colleague. However, when there's smoke, there's fire. Perhaps La Russa saw (or perhaps smelled) a match being lit in the Cardinals front office.