What a 162-game season means for the St. Louis Cardinals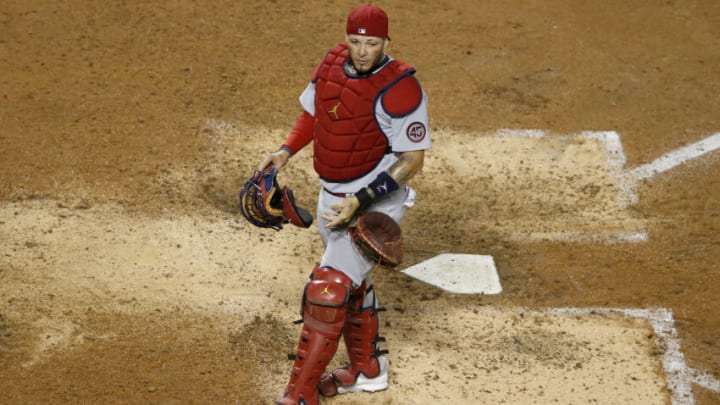 Yadier Molina #4 of the St. Louis Cardinals in action against the New York Mets at Citi Field on September 15, 2021 in New York City. The Cardinals defeated the Mets 11-4. (Photo by Jim McIsaac/Getty Images) /
With the MLB lockout a thing of the past, the Cardinals can enjoy a full 162-game season that is bound to deliver on big-time moments.
The MLB lockout is over. Finally! With a 162-game schedule agreed upon, the St. Louis Cardinals can enter a potentially magical season with a full slate of games to enjoy.
With it being Adam Wainwright and Yadier Molina's final season, there were going to be plenty of emotions throughout the year. Then, the lockout stretched well into the start of spring training and the preseason. While it looked like the two Cardinals legends would not get the chance to go out in a 162-game season, those worries are all a thing of the past.
Along with the legendary duo, there are several Cardinals who can also be thankful for the prolonged season. Nolan Arenado and Paul Goldschmidt, who are entering the 10th and 11th full seasons, respectively, are in the primes of their careers and are looking at securing Hall of Fame spots.
Although the 60-game 2020 season significantly hurt everyone's career numbers, a second shortened season would severely damage any chances these two hitters had at making the Hall of Fame.
As for the pitching staff, Giovanny Gallegos gets his first season debut as a closer in the MLB. He came on red-hot to close out the 2021 campaign, so his ups and downs will be an interesting storyline to follow all season.
Finally, Jack Flaherty could turn into the Cardinals' ace. Despite the incredible start to the 2021 season, Flaherty finished with average numbers by the end of the year. Injuries slowed down the monstrous rampage he was on, so it will also be intriguing to see which numbers were real.
Is he as good as the first half of the season? Or is he as average as the latter half of the season? Over the course of 162 games, there will be plenty of time to see how Flaherty shakes out.
The most important thing is that there is going to be baseball over the course of the next few months. A lot of baseball. The fact that there will be a full season means a lot to several teams around the league. The Cardinals, however, have to be one of the most thankful due to their championship aspirations in 2022.