Looking back on the St. Louis Cardinals' Marco Gonzales-Tyler O'Neill trade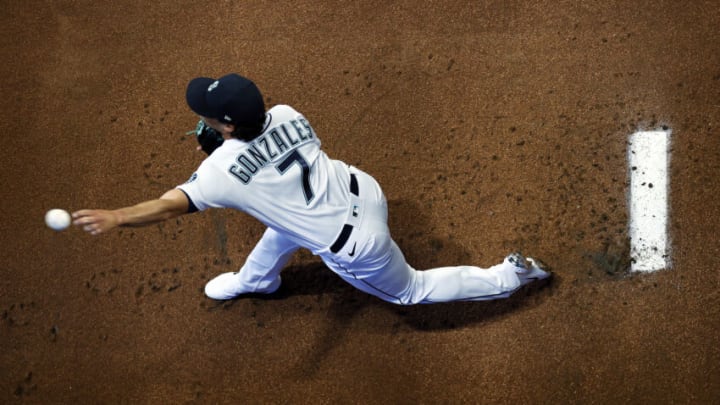 SEATTLE, WASHINGTON - JUNE 14: Marco Gonzales #7 of the Seattle Mariners warms up in the bullpen before the game against the Minnesota Twins at T-Mobile Park on June 14, 2021 in Seattle, Washington. (Photo by Steph Chambers/Getty Images) /
The St. Louis Cardinals have traded away promising players to fill holes on the major league roster. How have they fared on other rosters?
For several years now, the St. Louis Cardinals have dealt starting pitchers who barely have gotten their first cup of coffee in the majors, with mixed results.  Sometimes they've gotten a small short-term gain that looks like a long-term loss, other times the deal appears to have been an immediate win.  This time we're looking at a move that's taken a few years to determine whether it was a good or bad one – and that question still hasn't been answered.
Marco Gonzales was a first-round pick by St. Louis, taken 19th overall in the 2013 draft.  As a college draftee, the left-hander was pushed up the minor league ladder rather aggressively.  The summer he was selected, Gonzales appeared in the Rookie Leagues and High-A over a total of eight games.  In 2014, he advanced from A-ball to Double-A to Triple-A before a June call-up to the big leagues, throwing 34-2/3 innings of 4.15 ERA while walking far too many hitters, with 5.5 BB/9.
Interestingly, Gonzales made stops at the same three minor-league levels again in 2015 before making one (poor) September appearance with the Cardinals.  Unfortunately, his entire 2016 season was wiped out by Tommy John surgery.  After some additional time in the minors in 2017, Gonzales started once for St. Louis before being shipped to the Seattle Mariners in July in exchange for highly regarded minor league outfield prospect Tyler O'Neill.
Gonzales pitched poorly in his first month with the Mariners, posting a 7.40 ERA in five August starts.  A combination of starts and relief appearances resulted in a 2.81 September ERA, a better indication his future could be bright.
Since the calendar flipped to 2018, Gonzales has been an above-average starting pitcher, with ERAs in the very narrow range of 3.96 to 4.00 in the three 162-game seasons during that time, dropping to 3.10 over 11 starts during the shortened 2020 campaign.
The Mariners were so thrilled with Gonzales' first two full seasons in Seattle, they signed him to a four-year, $30-million contract extension in February of 2020 covering 2021 through 2024, with a fifth-year option valued at $15 million.  So far, so good for that relationship, and if Gonzales' results continue to be anywhere close to what they've been thus far, picking up that option will be a no-brainer decision for the Mariners front office.
Anyone evaluating the Gonzales-O'Neill trade at the time of that contract extension would have chosen the Mariners as the team coming out ahead.  And while some still may view things that way – and with plenty of time for perspectives to change – O'Neill has closed the gap considerably over the last two seasons.
A part-timer in the 2018 and '19 seasons, O'Neill demonstrated good power and awful plate discipline.  In a combined 293 plate appearances, he launched 14 home runs while striking out an alarming 110 times (37.5% of the time!) with merely 17 walks (5.8%).  However, O'Neill started only 2/3 of the 85 games he appeared in during those two campaigns, and pinch-hitting is known to be a drag on a batter's performance.
Having repeatedly survived St. Louis' clearing of their outfield glut, O'Neill was given his first extended run as a starter in 2020, receiving 80% of the left field starts and finishing 85% of those appearances, with a couple of games as the team's designated hitter, as well.
While he thrived defensively, earning his first Gold Glove for his exemplary leatherwork, O'Neill's bat tanked, as he hit .173/.261/.360 with seven homers in 157 PA.  He did manage better control of the strike zone, punching out only 27.3% of the time while earning a free pass in 9.6% of his plate appearances.  If only O'Neill could combine this improved discipline with his typical power, he could be impressive.
In 2021, O'Neill very much impressed. He again received a Gold Glove – one of a record five St. Louis defenders earned last season – while having his best overall offensive campaign.  All three of his triple-slash numbers, .286/.352/.560, were career bests, and that .912 OPS translated to a very strong 150 OPS+.  O'Neill found a tolerable middle ground with his plate discipline compared to previous years, whiffing in 31.3% of his PAs and walking in 7.1% of them.
O'Neill is one of the best-built players in the majors, understandable given his lineage.  His father, Terry, won the Mr. Canada award in 1975 as that country's top bodybuilder.  Tyler, however, is no mere poseur, flexing his muscles to the tune of 34 long balls last season and also showing his speed with 15 stolen bases in 19 attempts.  Put all those achievements together, and the result was an eighth-place finish for O'Neill in National League MVP voting.  Heading into his age-27 campaign, O'Neill's future is quite promising.
Will Gonzales continue to provide valuable solid starts for the Mariners?  Will O'Neill do the same for the Cardinals?  Both fanbases are eager to see if the future declares a clear victor in what the present sees as a win-win trade.