Could Adam Ottavino be a fit for St. Louis Cardinals bullpen?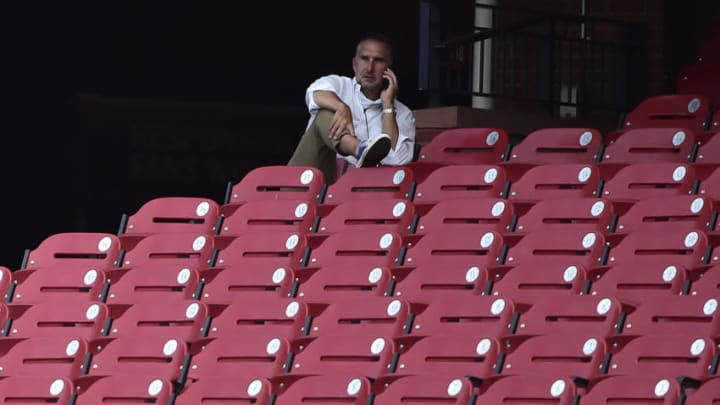 John Mozeliak looks on from the seats during workouts at Busch Stadium. Mandatory Credit: Jeff Curry-USA TODAY Sports /
Could Adam Ottavino be a fit for St. Louis Cardinals bullpen? The right-hander was mentioned as an option, but a match appears unlikely.
With news that the St. Louis Cardinals will not pursue Kenley Jansen, and that Joe Kelly might be too expensive, they may need to get creative in addressing their bullpen. Ryan Tepera appears to still be in play, but they reportedly want to add "at least" two relievers before the 2022 season.
Derrick Goold of the St. Louis Post-Dispatch recently mentioned free-agent right-hander Adam Ottavino as an option. Goold did not say that the Cardinals are interested in Ottavino, or that he is even on their radar, but wrote that his past closing experience could be appealing.
Ottavino, of course, would not come to the Cardinals to close. Not at this stage of his career, and especially not with Giovanny Gallegos entrenched in the ninth inning as their closer. But while he posted 2.43 and 1.90 ERAs in 2018 and 2019, he has had ERAs in the 4-5.5 range in the past two seasons. He walked 35 batters in 62 innings last year with the Boston Red Sox.
Still, Ottavino, 36, is likely to land a job in some teams' bullpen next year. He may have to settle for a minimal one-year deal, however, which could be in the Cardinals' price range, especially if they sign Tepera. But adding Ottavino, especially when his best days are behind him, does not seem like a move that the Cardinals should explore, especially with their bullpen needing reliable arms.
Tepera should be their No. 1 target after the lockout and with the realistic options limited after him, perhaps the Cardinals turn to the trade market to add another low-cost reliever. After all, president of baseball operations John Mozeliak has shown a deft touch with finding unheralded pitchers on the trade market, evidenced by his trade deadline acquisitions of J.A. Happ and Jon Lester.
Perhaps Mozeliak does it again to address his bullpen. But the move(s) he makes will be critical in determining whether the Cardinals are a World Series contender or have a repeat of what happened in 2021.