MLB Insider thinks St. Louis Cardinals should pursue Yusei Kikuchi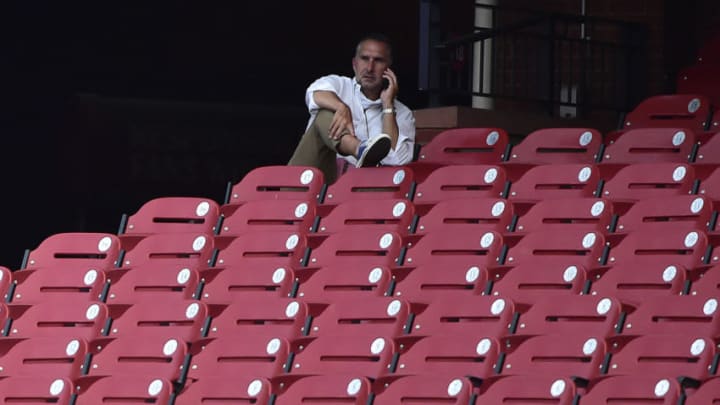 John Mozeliak looks on from the seats during workouts at Busch Stadium. Mandatory Credit: Jeff Curry-USA TODAY Sports /
MLB Insider Jim Bowden thinks that the St. Louis Cardinals should pursue Yusei Kikuchi. But such a move seems unlikely for multiple reasons.
When the lockout ends, the St. Louis Cardinals are going to prioritize addressing the bullpen. But they also will explore further upgrading the rotation and the lineup, with it being reported that the team will pursue low-to-mid level options for both positions.
MLB insider Jim Bowden thinks the Cardinals should pursue more meaningful options, with Bowden writing on The Athletic that they should pursue free-agent left-hander Yusei Kikuchi.
Kikuchi is an interesting name, and one that has not been connected to the Cardinals this offseason. Kikuchi, 30, posted a 4.41 ERA and a 163/62 strikeout-to-walk ratio in 157 innings, but that doesn't paint the full picture. In the first half of the season, he posted a 3.58 ERA and was perhaps the Seattle Mariners' best pitcher. In the second half of the season, however, he posted a 5.98 ERA, was removed from the Mariners' rotation and was released at the beginning of the lockout.
Kikuchi's struggles toward the end of the 2021 season was expected to limit his market, but Jon Heyman of MLB Network reported that he was weighing multiple three-year offers before the lockout. It's unclear what financial value those offers held, but with the Cardinals giving Steven Matz a four-year, $44 million deal, it's highly unlikely they would hand out another multi-year deal, especially to a player in Kikuchi who struggled so badly.
Bowden listed free-agent left-hander Carlos Rodon as another option that the team could pursue and while he has a better performance history than Kikuchi, could settle for a one-year deal due to shaky medicals. Still, landing either player seems unlikely — Rodon being the more likely, especially on a one-year deal — but Kikuchi seems destined to head elsewhere, possibly to the New York Mets, once free agency opens again — whenever that may be.