Cardinals: Who other NL Central signed during international free agency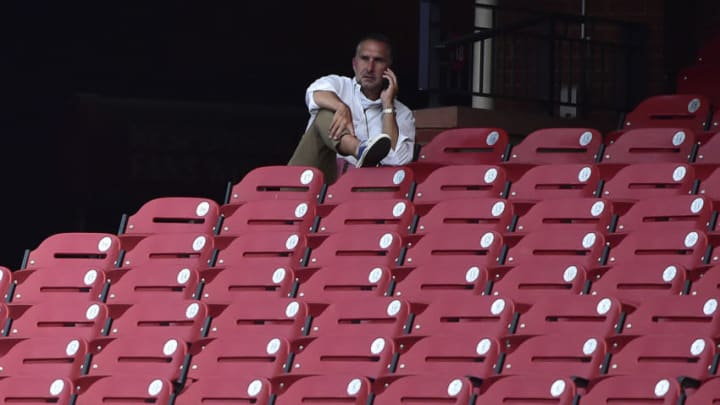 John Mozeliak looks on from the seats during workouts at Busch Stadium. Mandatory Credit: Jeff Curry-USA TODAY Sports /
We know who the St. Louis Cardinals signed during international free agency. But what about the rest of the National League Central?
The international signing period provided the most excitement in months for baseball, with the St. Louis Cardinals signing two of the best players available, including top Korean prospect Won-Bin Cho.
But what about the rest of the National League Central?
The Milwaukee Brewers signed a whopping 33 players, including Jhonny Severino and Johan Barrios. Both players rank in the top 25 international prospects by MLB Pipeline and Baseball America and should be prominently featured in the organizations two Dominican Summer League teams and at their Arizona Complex. For more insight, here's Reviewing The Brew on the moves.
The Chicago Cubs, meanwhile, agreed to terms on deals with shortstop Alexis Ramirez ($1.3 million) and third baseman Adan Sanchez ($1.5 million). Hernandez was ranked by MLB Pipeline as the No. 18 international prospect while Sanchez was No. 43. Here's Cubbies Crib with more insight on the moves.
The Pittsburgh Pirates had what is considered a strong international free agent class, signing outfielder Tony Blanco Jr., shortstop Yordany De Los Santos, and Taiwanese pitcher Hung-Leng Chang. Of the group, Blanco Jr. comes as the highest rated (No. 11 by MLB Pipeline) and comes with great size at 6-foot-5, 230 pounds. De Los Santos, meanwhile, was the No. 12 international free agent. Here's Rum Bunter with more on the signings.
To close out the NL Central, the Reds signed 10 international free agents, including 17-year-old shortstop Ricardo Cabrera. They signed Anthuan Valencia and Esmith Pineda, who are both in the top-50 international free agents, with the other seven signed all ranked outside the top-50. Here's Blog Red Machine with more on the moves.
Of course, we don't know much about these players besides their names, height, weight and their stats. But it's where you can find the next Juan Soto, Fernando Tatis Jr., Vlad Guerrero or Wander Franco at a cheap price, and that makes the international signing period worth paying close attention to, and why teams are now investing so many resources into scouting outside the United States..