Former St. Louis Cardinals pitcher Jon Lester decides to retire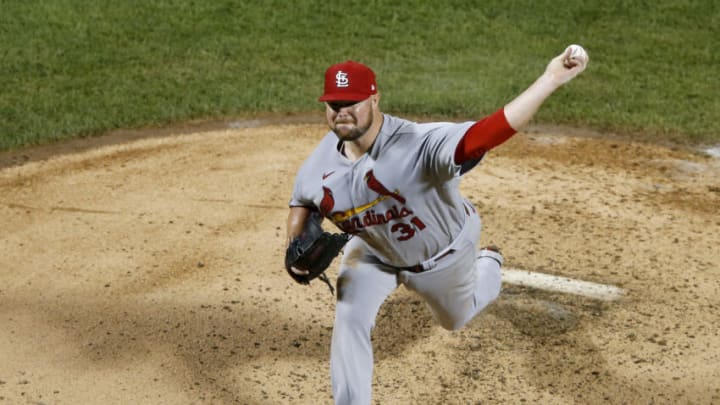 Jon Lester #31 of the St. Louis Cardinals in action against the New York Mets at Citi Field on September 15, 2021 in New York City. The Cardinals defeated the Mets 11-4. (Photo by Jim McIsaac/Getty Images) /
Former St. Louis Cardinals pitcher Jon Lester decides to retire, putting an end to a 16-year career that puts him in the Hall of Fame conversation.
When the St. Louis Cardinals acquired Jon Lester at the trade deadline, the general reaction was one of surprise. Why acquire Lester, a pitcher approaching 40, when the need for a starting pitcher was so great and the market was flush with better options?
It turns out the trade, which sent Lane Thomas to the Washington Nationals, was a stroke of genius by Cardinals president of baseball operations John Mozeliak. In 12 starts, Lester posted a 4.36 ERA and 40/26 strikeout-to-walk ratio in 66 innings, with the Cardinals winning seven of his outings. It was more than the team could have hoped for from Lester, 38, and there was a thought that he'd be open to returning to St. Louis next season.
But Lester has decided to retire from Major League Baseball, telling Jesse Rogers of ESPN.com that he is not up for the "rigors" of a 162-game season. "It's kind of run its course," Lester said. "It's getting harder for me physically. The little things that come up throughout the year turn into bigger things that hinder your performance. … I don't want someone telling me that I can't do this anymore. I want to be able to hand my jersey over and say, 'Thank you. It's been fun.' That's probably the biggest deciding factor."
Of course, most of Lester's time was spent with the Boston Red Sox and the division-rival Chicago Cubs, where he helped them win a World Series to break a 108-year drought. But what a career he leaves behind. He won two World Series with the Red Sox and also appeared in the postseason in six other seasons (2008, 2009, 2014, 2015, 2017, 2018). He won 200 games, posted a .600 winning percentage and a career ERA under 4, becoming only the ninth modern left-hander to accomplish that feat.
It puts Lester squarely in the Hall of Fame picture, though he most likely will go in as a Cub (he didn't say that, just my speculation). It also makes the Cardinals' choices for an additional starting pitcher a little less clear, as I thought – and so did others – that Lester was a perfect fit to come back on a one-year deal, given his success pitching behind their elite infield defense.
We will see who the Cardinals target, but it won't be a high-end starting pitcher. Instead, it will be someone in the Lester mold on a low-cost one-year contract that allows the team to spend the majority of their money on relievers and/or another bat.
For Lester, however, it's the end of an era. And while he only pitched half a season in St. Louis, his presence was surely felt. Without him, they may not go on that historic 17-game winning streak and make the postseason against all odds.