Cardinals' Yadier Molina had one of most popular plays in 2021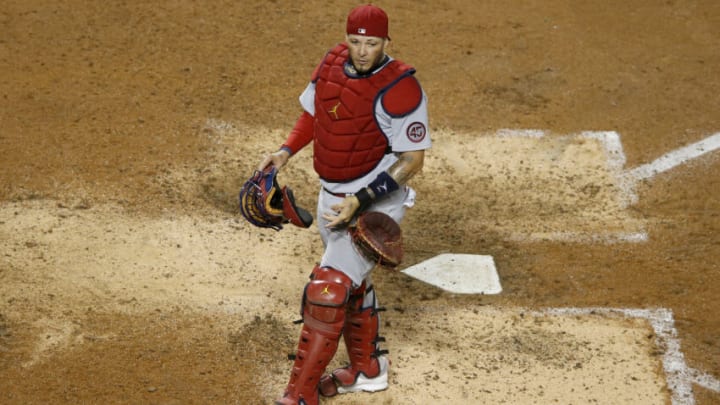 Yadier Molina #4 of the St. Louis Cardinals in action against the New York Mets at Citi Field on September 15, 2021 in New York City. The Cardinals defeated the Mets 11-4. (Photo by Jim McIsaac/Getty Images) /
St. Louis Cardinals catcher Yadier Molina had one of the most popular and most-watched plays of the 2021 season.
This past season contained many milestones for the St. Louis Cardinals. They won a franchise-record 17 consecutive games. Nolan Arenado and Paul Goldschmidt were All-Stars. Tyler O'Neill broke out. Harrison Bader and Tommy Edman won their first career Gold Gloves.
There were also many exciting plays and one of them – Yadier Molina telling a runner to steal second base and then throwing him out – was the third most watched play among Jomboy's breakdowns in 2021.
Molina has always been known for his strong defense and elite arm behind the plate and even at 39 years old, is able to call his shots and showcase just how strong his arm still is. If you watch the play (you should), you'll likely watch it again and just laugh. It's classic Molina, even in the seventh inning of a meaningless spring training game.
It was also a sign of things to come for Molina, as he started off the season red hot before cooling off. In 121 games, he slashed .252/.297/.370 with 11 home runs and 66 RBI. He showed that he still had more left in the tank and to avoid having his free-agent process dragged out like it did in the winter of 2020, he and the Cardinals agreed on a one-year deal during the season to ensure that he spends the entirety of his 19-year career in St. Louis.
Which means that both Molina and Adam Wainwright, who also signed a one-year deal during the season, will finish their careers together in 2022. Which means that the two will break the all-time record for games played among battery mates (324 by Mickey Lolich and Bill Freehan).
It also means Molina can make more plays like the one in the Jomboy breakdown. Appreciate it while you have it, Cardinals fans, because odds are you will never have another catcher like Molina. Then again, no one else will. He's truly one of a kind.