The St. Louis Cardinals should trade for this elite pitcher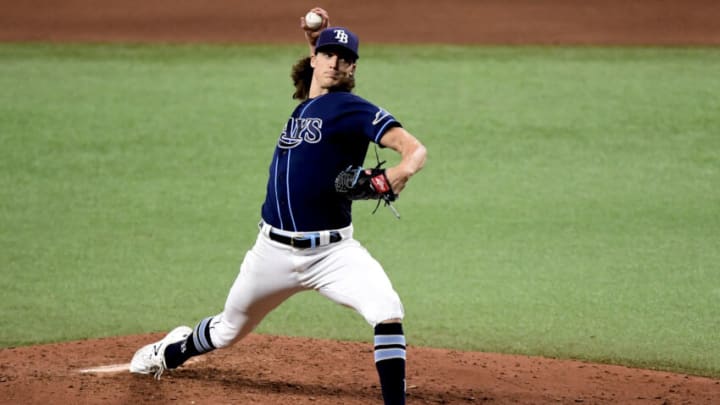 ST PETERSBURG, FLORIDA - JUNE 08: Tyler Glasnow #20 of the Tampa Bay Rays throws a pitch during the fifth inning against the Washington Nationals at Tropicana Field on June 08, 2021 in St Petersburg, Florida. (Photo by Douglas P. DeFelice/Getty Images) /
The St. Louis Cardinals are still looking for another starting pitcher, and should target Tampa Bay Rays ace Tyler Glasnow.
The St. Louis Cardinals are a few moves away from completing their 2022 roster, but there is one name on the trade market they should be making a play for with eyes on 2023: Tampa Bay  starting pitcher Tyler Glasnow.
Glasnow, 28, who is recovering from Tommy John surgery back in late July, has been rumored to be on the market this offseason for the right price. The Rays are notorious for dealing away star-level talent in their last few years of team control, and Glasnow fits that bill.
Glasnow, acquired in the Chris Archer trade in 2018, has ace level stuff and put all of the pieces together before his season ending injury. Before this season, Glasnow boasted an upper 90s fastball with a  curveball and change up mix. Going into 2021, he added a devastating slider that helped raise him into an top level starter.
In 88 innings, Glasnow had an era of 2.66 and his K/9 of 12.6 and WHIP of 0.93 would have ranked top 5 in all of baseball. Standing at 6'8, he not only looked the part this past season, but he pitched like the ace he had been touted to be.
So why would the Rays trade him? And how would a pitcher who is out for 2022 help the Redbirds? Let's look at this from both angles.
Why Tampa Would Deal Glasnow
The Rays are in win now mode, but are always acutely aware of their payroll when maximizing the value of their talent. With Glasnow being out this coming season and a free agent after 2023, now would be the time to get as much value as possible to help the Rays continue to build a winning club. Having just signed Wander Franco to a club record extension, it would not be surprising for the club to offload the salary of an injured player.
The Rays are loaded with young pitching, having the likes of Shane McClanahan, Shane Baz, Luis Patino, and Ryan Yarbrough under multiple years of control and pitching prospects like Taj Bradley, Cole Wilcox, and Nick Bitsko waiting in the wings. After going to the World Series in 2020, the club dealt Cy Young winner Blake Snell to capitalize on his value, so there is precedent for this kind of move.
Why St. Louis Should Acquire Glasnow
For the Cardinals, this looks like another shrewd trade opportunity where the team could acquire a top level talent for a discounted rate. Since the Cardinals would be paying for an injured player who may only pitch one year for the club, Tampa Bay likely won't get the return an ace level pitcher should normally warrant. Glasnow won't come cheap, but he's a risk many teams would be willing to take.
With Adam Wainwright in his last season in St. Louis, and uncertainty surrounding future production of Jack Flaherty and Dakota Hudson, the Cardinals could add an ace up their sleeve to pull out in 2023.
Tommy John surgery is no longer a death sentence for players, but there's a pretty good chance Glasnow would be willing to sign an extension with the club to secure some certainty coming off of this injury. There is always risk when trading for a player with elbow issues, but it's a risk that could propel the club to another level.
With an abundance of young bats, the team could create a package around the likes of Juan Yepez, who could slide in at first base and DH for the reigning AL East champions and have six years of team control, Brendan Donovan or Edmundo Sosa to provide middle infield depth, and a prospect like Zack Thompson, Joshua Baez, Masyn Winn, or Michael McGreevy. It may take a little more or less than this, but this seems like a realistic haul for the ailing star. If the Cardinals could pull off this trade without giving up Nolan Gorman or Jordan Walker, it is a no-brainer.
Elite organizations seek to add value to their club whenever possible. For St. Louis, Tyler Glasnow may be that next trade acquisition. While a move like this could come back to sting the club, if you want splashy, look no further than this Ray.