St. Louis Cardinals reportedly could add another starting pitcher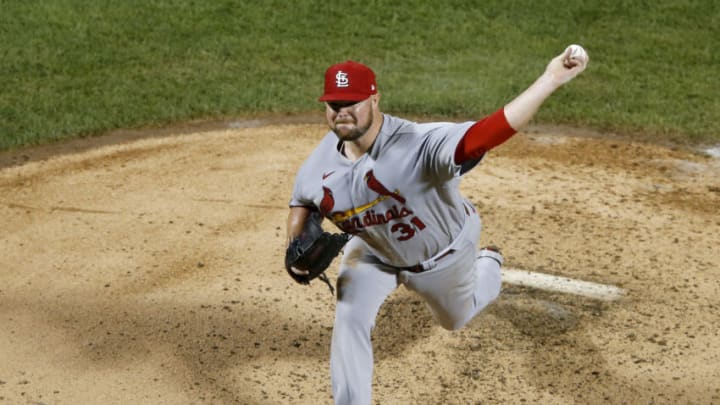 Jon Lester #31 of the St. Louis Cardinals in action against the New York Mets at Citi Field on September 15, 2021 in New York City. The Cardinals defeated the Mets 11-4. (Photo by Jim McIsaac/Getty Images) /
Even after signing Steven Matz, the St. Louis Cardinals reportedly could look to add another starting pitcher.
After the Steven Matz addition, it was widely assumed that the St. Louis Cardinals were done adding to the rotation and would shift their focus to adding bullpen help and another bat.
While it's true that they will look for bullpen and offensive upgrades, the Cardinals may not be done adding to the rotation, with Rick Hummel of the St. Louis Post-Dispatch listing another starting pitcher as a possibility.
While he did not name any potential options, or say that the Cardinals are going to add a starting pitcher, it's interesting that it's at least a possibility. The rotation should be much better in 2022, and have more depth, with Dakota Hudson, Jack Flaherty and Miles Mikolas entering the season healthy. With Matz and Adam Wainwright rounding out the rotation, it gives them a strong group of starting pitchers with upside and/ or lengthy track records.
But as the 2021 season underscored, you can never have enough depth. So adding another pitcher who is capable of making spot starts or pitching in multi-inning stints out of the bullpen makes a lot of sense. Which is why it would not be surprising to see the Cardinals try to re-sign Jon Lester or someone along those lines.
For one, Lester will be cheap. He signed a one-year, $5 million deal with the Washington Nationals last season and could be had on a lesser deal this winter. The 37-year-old pitched well for the Cardinals in 2021, posting a 4.36 ERA in 66 innings following a midseason trade, and is believed to have enjoyed his time in St. Louis, so it's possible (perhaps even likely) that he would be open to a reunion.
But it would give the Cardinals financial flexibility to add a meaningful reliever or two, especially with recent reports connecting them to Pirates infielder Colin Moran. If the Cardinals add Moran and Lester (or similar players), it may allow them to add both Joe Kelly and Ryan Tepera, which would make the bullpen a strength and arguably one of the best entering the 2022 season.
Of course, the Cardinals can't make any additions until the lockout is over, and who knows when that will be. But it's clear they intend to upgrade every part of the roster once they are able to – and that even means the rotation, which was not something many, if any, people around the team expected after they signed Matz.