St. Louis Cardinals select three intriguing players in Rule 5 Draft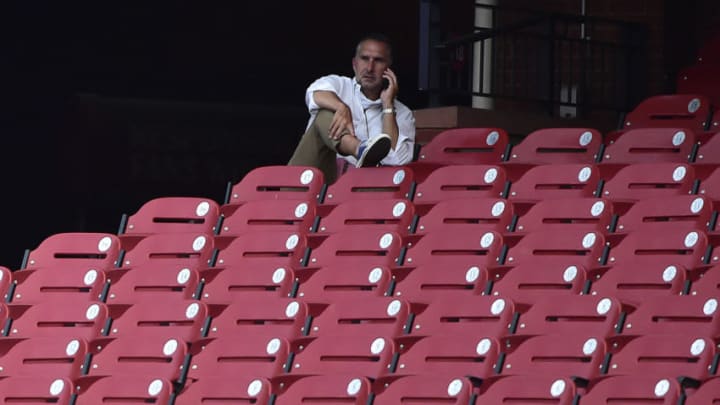 John Mozeliak looks on from the seats during workouts at Busch Stadium. Mandatory Credit: Jeff Curry-USA TODAY Sports /
The St. Louis Cardinals have selected three players in the Rule 5 Draft, including two intriguing pitchers and a power bat.
Major League Baseball's lockout has meant a transaction freeze, meaning that roster moves on the major-league level are forbidden until the next CBA is agreed to.
But the minor-league portion of the Rule 5 Draft commenced at the Winter Meetings and the St. Louis Cardinals added three – 3! – players, with them being right-hander Carlos Guarate, left-hander Nelfri Contreras and outfielder Jonah Davis.
Each player has something in common: Youth. Guarate is 20, Contreras is 22 and Davis is 24. It adds to a farm system that president of baseball operations John Mozeliak has worked tirelessly to build — and has resisted recent temptations to deplete, with teams asking for Nolan Gorman and Jordan Walker, among others, in trade talks as the Cardinals look to build their major-league roster.
Guarate received a $300,000 signing bonus from the San Diego Padres in 2017. He's a natural power pitcher that has received praise from scouts, posting a 2.22 ERA in 12 games (48.1 innings) in 2019. He has struggled recently, posting a 7.30 ERA in 10 games at High-A, and the Cardinals are banking on a change of scenery to get him back to his 2019 level.
Contreras is intriguing. In 31 games last season, he posted a 3.80 ERA in 47.1 innings. He has struggled primarily with control, allowing 50 hits and 25 walks, and the Cardinals believe they can correct some of those issues. If that's the case, he can be someone they count on as a left-handed reliever (something they desperately need) in middle relief.
Davis has perhaps as much upside as any of the players that they selected. He hit 15 home runs in 92 games with the Pittsburgh Pirates' Double-A affiliate, though he struck out 153 times in 297 at-bats. He'll always strike out a lot – it's part of his game – but cutting that number down will go a long way toward him eventually making it to the majors. If he doesn't, he won't play in the big leagues. A strikeout rate over 50 percent just isn't possible to have taking meaningful at-bats.