What's next for the St. Louis Cardinals this offseason?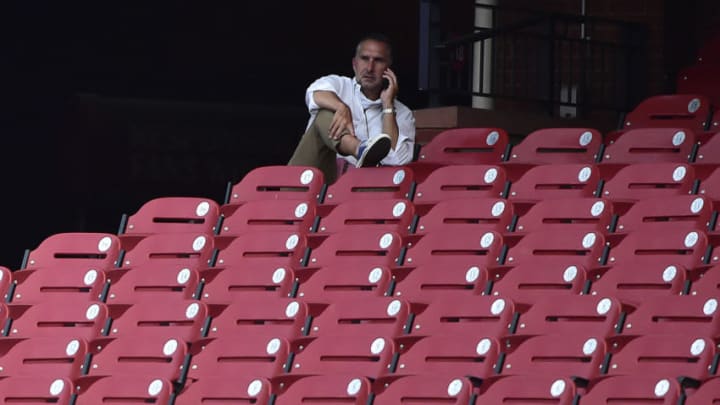 John Mozeliak looks on from the seats during workouts at Busch Stadium. Mandatory Credit: Jeff Curry-USA TODAY Sports /
What's next for the St. Louis Cardinals after signing Steven Matz?
By signing Steven Matz, the St. Louis Cardinals have shored up their starting rotation. With Matz, as well as Jack Flaherty, Adam Wainwright, Miles Mikolas and Dakota Hudson, the unit is a strength headed into the 2022 season.
So what's next for the Cardinals this offseason?
Their focus is going to turn to adding a late-inning leverage reliever. And considering Matz's contract is four years, $44 million — $11 million per season — it means the Cardinals will have plenty of money remaining in their budget, which leaves no available option should be off the table.
Still, it's unlikely the Cardinals will pursue Craig Kimbrel or Raisel Iglesias. Kimbrel, on top of a $16 million salary, will cost a handful of decent prospects. Iglesias, meanwhile, will command a multi-year deal worth at least $18 million per season and any team who signs him will have to part with a premium draft pick, which is something that president of baseball operations John Mozeliak has not been willing to do in the past.
One option that could make sense is right-hander Joe Kelly, who has previously been with the Cardinals. Kelly, of course, is coming off an arm injury, but will be ready for spring training. He offers a lot of what the Cardinals desire: ground ball pitcher and high-leverage experience, posting a 2.86 ERA and a 50/14 strikeout-to-walk ratio in 48 games with the Los Angeles Dodgers last season.
Kelly should command a contract similar to Aaron Loup's two-year, $17 million contract, which will fit the Cardinals' budget. There are other names the team will pursue, of course, and it's likely they look to add another impact bat this winter.
But adding a high-leverage reliever is the priority and it's possible they sign one before the Dec. 1 lockout.