Why the St. Louis Cardinals should claim Clint Frazier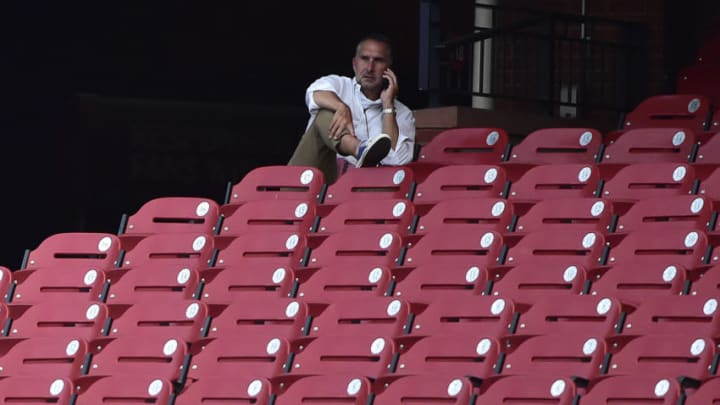 John Mozeliak looks on from the seats during workouts at Busch Stadium. Mandatory Credit: Jeff Curry-USA TODAY Sports /
The St. Louis Cardinals should consider claiming Clint Frazier off waivers — that is, if he hasn't been claimed already.
The St. Louis Cardinals, and 28 other teams in baseball, have an interesting decision to make in the coming days.
Should they claim Clint Frazier, who was recently designated for assignment by the New York Yankees?
Frazier, 27, is a bit of a polarizing player. He is an immensely talented player, once widely regarded as a consensus top prospect, and has been the subject of trade rumors for seasons as the Yankees sought an elite impact player. They held onto him, betting that his talent would eventually shine through. But in five seasons, injuries, offensive struggles (.186/.317/.317 in 66 games last season) and defensive woes contributed to his demise in New York.
That said, Frazier should draw interest. A lot of it. He has a 105 wRC+ in 805 career plate appearances, meaning he's been a slightly above average hitter so far, and his talent – and underlying numbers – would suggest that there's much room for growth. The defense, however, is where some teams will have doubts (-20 DRS in the outfield).
But this is a player the Cardinals absolutely should explore. After all, it's not like he would start. They have Tyler O'Neill, Dylan Carlson and Harrison Bader entrenched as starters in the outfield. It is rare to have a player with Frazier's talent and upside become available at no cost.
The Cardinals can afford to take the risk defensively, considering they have five Gold Glovers and an elite defense. They can have Frazier come in off the bench and use him as a pinch-hitter and a No. 4 outfielder. Maybe a change of scenery unlocks his potential. Maybe he's a slightly better version of what he was in New York. Maybe he's the same player.
Either way, having Frazier as the No. 4 outfielder is something the Cardinals should explore. Their depth was tested in many ways last season and, if that is once again the case in 2022, having Frazier available gives them upside that they simply didn't have last season.