3 Cardinals who should be admitted to the Hall of Fame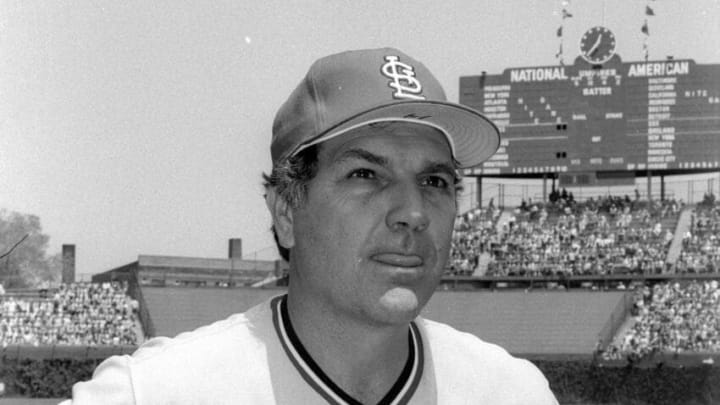 CHICAGO - UNDATED 1978: Manager Ken Boyer of the St Louis Cardinals poses before a MLB game at Wrigley Field in Chicago, Illinois. Boyer managed for the St Louis Cardinals from 1978-19801. (Photo by Ron Vesely/Getty Images) /
Here's my case for three of those former Golden Era Cardinals to be put into the Hall of Fame.
The National Baseball Hall of Fame and Museum recently announced the 10-person ballot to be considered by the Golden Era Committee of the Hall of Fame election for the Class of 2022. The Committee will meet on Dec. 5 at baseball's Winter Meetings in Orlando, Florida.
The Golden Era Committee considers candidates "whose primary contribution to the game came from 1950-69." The Golden Days players are considered only once every five years, and the Golden Era Committee will not meet again until the class of 2027 is considered.
Five former Cardinals, Dick Allen, Ken Boyer, Jim Kaat, Roger Maris, and Minnie Minoso will be considered along with Gil Hodges, Danny Murtaugh, Tony Oliva, Billy Pierce, and Maury Wills.
Here's my case for three of those former Cardinals.
Ken Boyer
Boyer played 15 seasons, 11 of those with the St. Louis Cardinals. He won five Gold Gloves, made six All-Star appearances, maintained a career OPS+ of 116, and won the 1964 National League MVP Award during the Cardinals' march to the World Series.
When you compare his career stats with some of the third baseman already in the Hall of Fame, he measures up.  Many consider Brooks Robinson to be the greatest third baseman in the history of the game. However, Boyer's career slash line of .287/.349/.462 bests Brooks Robinson's career slash line of .267/.325/.401. Also, Boyer's career hits of 2,143 is higher than four other third basemen currently in the HOF.
Boyer's five Gold Gloves matches Ron Santo's and bests Chipper Jones, Wade Boggs and George Brett. Finally, in the era before Mike Schmidt, Ken Boyer was arguably the second best third baseman in baseball after Brooks Robinson.
To me, Ken Boyer is one of the most overlooked stars of his generation. I hope the Golden Era Committee takes a close look at his accomplishments, and put him in Baseball's Hall of Fame on Dec. 5.
Roger Maris
I'm not going to try to convince you that Roger Maris was the greatest hitter of his day, or even the best outfielder. But Maris accomplished one thing that no else has done since 1961: he hit 61 homers without PEDs. In fact, after 1961, the closest anyone came to touching his home run record without PEDs was Ken Griffey, Jr in 1997 and 1998, when he hit 56 in both seasons.
Maris was an two time American League MVP award winner in 1960 and 1961. He also made seven All-Star appearances during his career and won a Gold Glove in 1960. Also in 1960, he led the league in SLG (.581) and RBI (112). He won the 1961 AL MVP Award, not just for his home runs, but because he also led the league in runs (132), RBI (141), and total bases (366).
Maris brought his right-handed bat to St. Louis in 1967 and helped the Cardinals to a World Series Championship, by hitting .385 with one home run and seven RBIs. He came back in 1968 to help the Cardinals to win their second N.L. Pennant in a row.
Like I said earlier, I'm not going to try to tell you Roger Maris was the greatest player of his generation. That would go to players such as Mantle and Mays. Nevertheless, what Maris accomplished alone in 1961 should, in my opinion, put him in the Hall of Fame.
Jim Kaat
Now, Jim Kaat wasn't the greatest pitcher of any decade he pitched in, whether it was the 50s, 60s, 70s, or 80s. But the left-hander did win 20 games three times in his career and won more than 10 games or more 15 times during his 25 year career.
After 1978, he became primarily relief pitcher. In 1980, Kaat came to St. Louis and spent his last four years in baseball pitching out of the Cardinal bullpen. In 1982, he was in the Cardinals bullpen and pitched in four games with a 3,86 ERA, during the 1982 World Series. Considered a reliable workhouse during his tenure with the Cardinals, he had a 19-16 record with a 3.82 ERA.
By the time his career ended after 1983, Kaat won 283 games and had a 3.45 ERA. He is also noteworthy for the fact he won 16 Gold Gloves as a pitcher, which is only second to Greg Maddox's 18.
As far as I am concerned, what makes Kaat Hall of Fame worthy is the length of his major-league career, and that he was still an effective pitcher well into his 40s. I don't know of any other pitcher who was part of the Bob Gibson/Don Drysdale era, that was still pitching productively into the 80s.