What the St. Louis Cardinals can learn from the Braves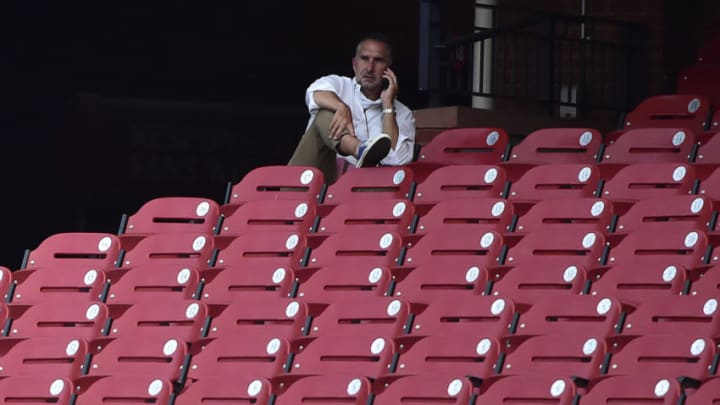 John Mozeliak looks on from the seats during workouts at Busch Stadium. Mandatory Credit: Jeff Curry-USA TODAY Sports /
What the St. Louis Cardinals can learn from the Braves, starting with how to approach the trade deadline with a plethora of injuries.
The St. Louis Cardinals and Atlanta Braves have two things in common.
Neither team was supposed to make the playoffs, with both franchises battling a plethora of injuries throughout the season. For the Cardinals, it was Jack Flaherty, Harrison Bader, Jordan Hicks, Miles Mikolas, Kwang Hyun Kim and others. For the Braves, it was Ronald Acuña Jr. and Mike Soroka, with Marcell Ozuna missing the remainder of the season as he faces charges for family violence battery and simple assault.
The Cardinals snuck into the postseason, only to lose the wild card game against the Dodgers. The Braves, meanwhile, are three wins away from winning the World Series. So what can they learn from this?
It's that president of baseball operations John Mozeliak should have invested more into his team at the trade deadline. The Cardinals were never out of postseason contention – they hovered a few games back of a wild card berth – and always had a roster capable of making a postseason push. Yes, J.A. Happ and Jon Lester helped, but imagine if the Cardinals made a push strong enough to entice the Rockies to trade Trevor Story. Would the Cardinals still be playing if they did?
On Tuesday, when Charlie Morton exited the game with a broken leg, the Braves bullpen picked up where he left off. It's been crucial during their postseason run, with Tyler Matzek emerging as a hero and Will Smith and Luke Jackson headlining a unit that has been extremely solid. The lesson: invest heavily in the bullpen. The unit could use upgrades, especially as Alex Reyes and Jordan Hicks battle injury/struggle, and should be a focus of their offseason in addition to upgrading at shortstop.
The Cardinals have many of the pieces in place to be a strong contender in 2022. But they can learn a lot from these Braves about how to build a roster at the trade deadline – and makes you wonder what would have been possible had Mozeliak added Story or another impact reliever before the July 30 deadline.