A new dawn has arrived for St. Louis Cardinals baseball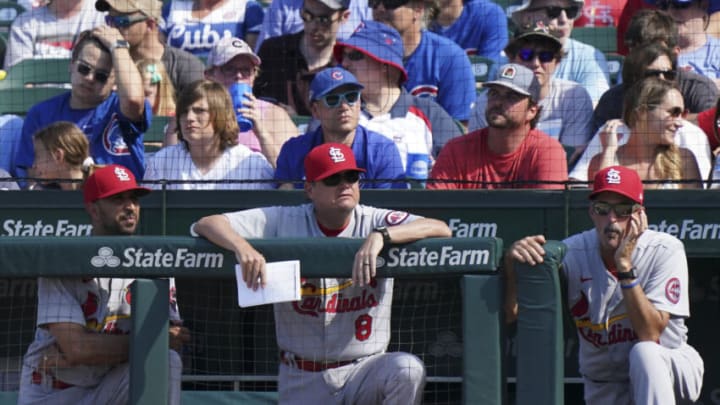 CHICAGO, ILLINOIS - JUNE 11: Center, manager Mike Shildt #8 of the St. Louis Cardinals watches his team during the eighth inning of a game against the Chicago Cubs at Wrigley Field on June 11, 2021 in Chicago, Illinois. (Photo by Nuccio DiNuzzo/Getty Images) /
When the St. Louis Cardinals fired manager Mike Shildt in a surprise move, it made something clear. Things are about to change in the organization.
It was a stunning development when news broke that the St. Louis Cardinals had fired Mike Shidt as manager. The reason given was "philosophical differences," which is as interesting as it is vague. If there was a rift between Shildt and the front office/ownership group, it would seem to be significant. The on-field results have been sufficient, although the team has failed to reach a World Series under Shildt's rather brief tenure.
What is clear is that this is a new dawn for the Cardinals. I'm curious if these differences were grounded in a style of play the front office wants to pursue and implement. Does the front office want the manager to be an extension of themselves? A puppet on a string? It sure seems like that's a possibility. We will see if the new manager, whoever it turns out to be, is a drastic departure from Shildt in some fundamental aspects of the on-field strategy.
Another thing that will be fascinating to watch is whether or not the front office's offseason game plan changes. Did Shildt get too vocal in his request for new additions? Perhaps the front office is planning to sit out the offseason, despite having a truckload of payroll coming off the books. Even after raises and arbitration figures, the Cardinals still figure to have significant payroll space to improve the team. Perhaps Shildt wanted players X, Y, Z, and John Mozeliak and company didn't.
Regardless, the old way of business for the Cardinals is gone. Even if results on the field stay the same and things on the surface seem like the status quo, the Shildt firing underscored a new reality. Mozeliak and the front office are in charge and if you don't toe the line, you're an expendable asset. Shildt was a company man who rose through the ranks and put in his time and effort. For him to be cast aside so abruptly is a sudden change. I don't want to say there was a power struggle in the organization, because I don't think that's the case. However, there was something that soured a seemingly strong and productive relationship to the point where it was not able to be mended.
We will see where things go from here. In the coming days, we might get some more insight into just what happened to cause these "philosophical differences". The search for a new manager is likely to begin soon, if it hasn't already. I expect the team to stay in house for their new manager, likely promoting someone from their current staff. I'd like to see the team bring in an outside voice as the new manager and add a new element to the coaching staff. That seems unlikely, though. After the Shildt firing, the front office probably wants someone they know won't step out of line.
As a roller coaster 2021 season comes to an end, an unexpectedly dramatic offseason is set to begin. With a roster that could be primed for meaningful turnover, a payroll with a lot of projected wiggle room, and the urgency to send franchise legends Yadier Molina and possibly Adam Wainwright out of their playing careers with one last playoff run, the search for a new manager is just the newest layer to the puzzle.
Buckle up, St. Louis Cardinals fans. This winter could be a wild ride.