St. Louis Cardinals: 6 players with something to prove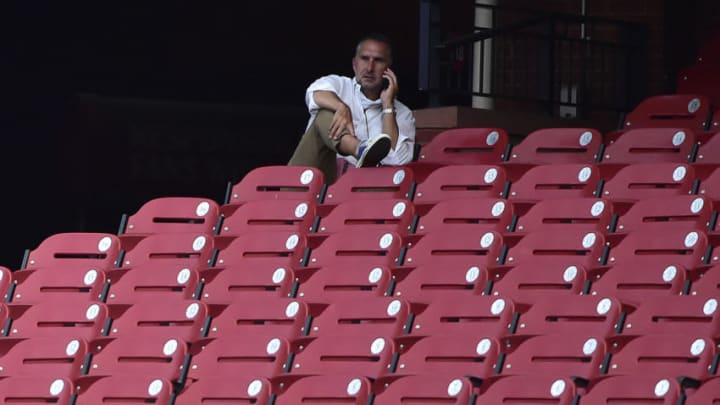 John Mozeliak looks on from the seats during workouts at Busch Stadium. Mandatory Credit: Jeff Curry-USA TODAY Sports /
PHOENIX, ARIZONA – MAY 30: Andrew Knizner #7 of the St Louis Cardinals gets ready in the batters box against the Arizona Diamondbacks at Chase Field on May 30, 2021 in Phoenix, Arizona. (Photo by Norm Hall/Getty Images) /
Andrew Knizner
With Yadier Molina signed, sealed, and delivered for 2022, it leaves one to wonder what that means for Andrew Knizner.
He is unsigned for 2022 and becomes arbitration-eligible in 2023. It seems pretty reasonable to assume the Cardinals hope for the future behind home plate does not lie with Knizner. It seems the Cardinals have their hopes for future catching duties with prospect Ivan Herrera.
Knizner, however, has been biding his time the last couple of seasons on the St. Louis bench or getting playing time in Memphis. He has basically had to wait for Molina to either need a day off or  be injured to get any playing time.
That has to be frustrating for a once-promising option to take over Molina's duties permanently. He was the No. 226 pick in the 2016 draft by the Cardinals.
This season, he has played in 51 games hitting .177/.291/.246 with a +55 wRC. He's hit one homer. He is no Molina behind the plate, but he is a good athlete and does seem to have the trust of Molina and the pitching staff.
It will be curious to see what happens with Knizner over the next year. He could continue to hone his skills as Molina's backup, have a couple of years to secure the starting catcher role for himself, and ultimately pass it off to Herrera. Or is Herrera closer than we think? Could Molina complete his last hurrah as Cardinals catcher and pass the baton off to Herrera?
Knizner more than likely needs to continue to hone his skills as a catcher because who knows what could happen next. If the Cardinals think Herrera is closer to being ready than we think, Knizner could end up as a trade chip. It would be to his and the Cardinals' advantage for Knizner to take his time to improve as a catcher and, more importantly, as a hitter.
He and the team will want him at this best to land in a prime location in exchange for prime talent.