St. Louis Cardinals: Jack Flaherty return timetable "very fluid"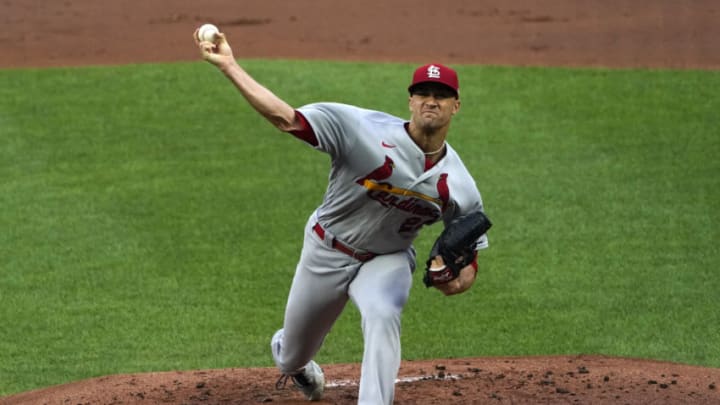 Jack Flaherty #22 of the St. Louis Cardinals throws in the first inning against the Kansas City Royals at Kauffman Stadium on August 13, 2021 in Kansas City, Missouri. (Photo by Ed Zurga/Getty Images) /
The St. Louis Cardinals hope Jack Flaherty can return this season, but as he just starts throwing again, time is quickly running out.
Without Jack Flaherty, the St. Louis Cardinals' rotation is far from its best. Adam Wainwright has kept it together while they have seen strong performances from Jon Lester and J.A. Hall. But Miles Mikolas and Kwang Hyun Kim have struggled and their performances could mean the difference between making or missing the playoffs.
The Cardinals, however, will be without Flaherty for a while. He started playing catch on Sunday, Katie Woo of The Athletic reports, and his return timetable is "very fluid." Flaherty says that he is day to day, though he called focusing on the calendar a "dangerous game."
Flaherty, 25, wants to return this season, but that he has yet to throw off a mound with 26 games to go in the regular season could make that difficult. He could, however, return in a limited role (perhaps as an opener?) which would allow him to make an impact in limited spurts.
Getting Flaherty back in any capacity would be a significant boost for the Cardinals, who are now 3.5 games behind the San Diego Padres for the second NL wild card spot and now trail the Cincinnati Reds and Philadelphia Phillies in the race. Their playoff odds sit at 3.9 percent, easily the worst of the group, and those small odds have made some wonder whether the Cardinals should sit Flaherty for the remainder of the season to ensure he is 100 percent healthy for next season.
Flaherty, however, likely wouldn't allow that — not if the Cardinals still have an opportunity to make the playoffs. But any hope that he can return in a starters capacity are dissipating by the day and he may have to get accustomed with the idea of pitching as an opener.
Even in that role, Flaherty would provide a boost for the Cardinals. But when he eventually is ready to return, which could be weeks away, it could prove to be too late as they continue to slide in the playoff race.