To make playoffs, St. Louis Cardinals need to beat the Brewers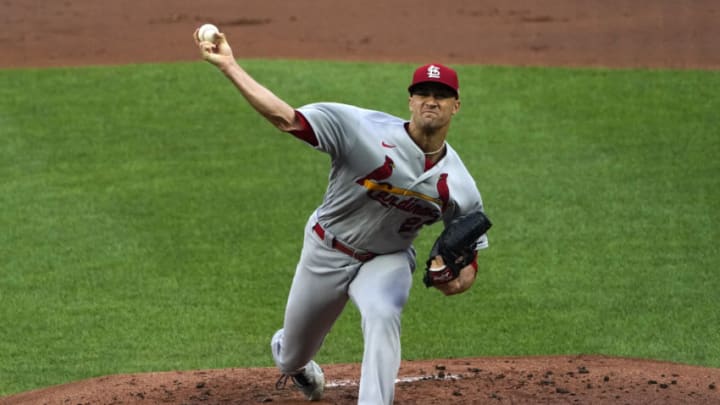 Jack Flaherty #22 of the St. Louis Cardinals throws in the first inning against the Kansas City Royals at Kauffman Stadium on August 13, 2021 in Kansas City, Missouri. (Photo by Ed Zurga/Getty Images) /
The odds are against the St Louis Cardinals, but if they want to make the postseason, they need to beat the Milwaukee Brewers.
The St. Louis Cardinals have increased their slim playoff chances to just over six percent. They sit behind the San Diego Padres by four games for the second wild card spot and with 44 games, have plenty of opportunities remaining to catch them.
But the Cardinals have bigger goals. They still want to win the National League Central. That will be tough, however, considering they trail the Milwaukee Brewers by 11 games and are coming off a 2-0 loss on Tuesday night in the first of 13 games remaining against them the rest of the season.
And the Brewers know that for the Cardinals to get to the postseason, they'll need to get through them — and that will be no easy task. "For them to get back in it, they're going to have to win a lot of baseball games and that's going to include beating us to get back in it," said Corbin Burnes, who dominated the Cardinals on Tuesday, via Adam McCalvy of MLB.com. "Their path to the postseason is probably going to come through us."
It's not going to be easy. Not in the slightest. After Burnes, the Brewers are going to start Freddy Peralta on Wednesday and Brandon Woodruff on Thursday. Both have ERAs of 2.26 or lower and are likely to finish the season in the top 10 of NL Cy Young Award voting, meaning the pressure is on an inconsistent offense to perform against some of the games best starting pitchers.
The Cardinals, however, are in position to have at least some success against Peralta and Woodruff considering that Nolan Arenado and Paul Goldschmidt, as well as Tyler O'Neill, have been swinging a hot bat lately. But with Dylan Carlson and Paul DeJong out, the Brewers can be careful pitching to them as over 20 percent of the current Cardinals lineup is backup players, including a rookie in Lars Nootbaar who has struggled in limited playing time this season.
Moments like these are why the Cardinals acquired Arenado. He's even said so himself. But in facing Burnes, Peralta and Woodruff, getting past these Brewers is not going to be easy. And facing them in 13 more games could be what keeps the Cardinals out of the postseason.