What's really fueling the St. Louis Cardinals' surge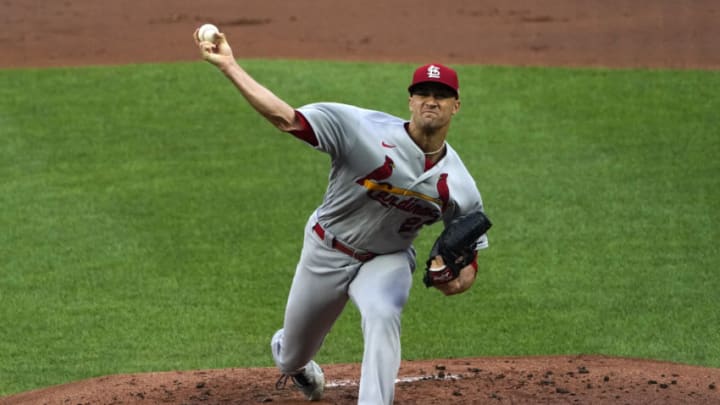 Jack Flaherty #22 of the St. Louis Cardinals throws in the first inning against the Kansas City Royals at Kauffman Stadium on August 13, 2021 in Kansas City, Missouri. (Photo by Ed Zurga/Getty Images) /
Paul Goldschmidt and Nolan Arenado are heating up. J.A. Happ has been much better than expected. But what's really fueling the St Louis Cardinals' surge?
We wrote earlier how J.A. Happ has stepped up as a dependable option out of the rotation for the St. Louis Cardinals. It's true. He has a 2.16 ERA in three starts, a surprising number considering his struggles with the Minnesota Twins, and has been a revelation in St. Louis.
But the Cardinals' recent 8-2 surge, featuring two consecutive sweeps of the Pittsburgh Pirates and Kansas City Royals, is not just because of Happ. The emergence of Nolan Arenado and Paul Goldschmidt has certainly played a part in it. But it's the starting rotation as a whole that has played a significant role in their success, with the rotation allowing only two earned runs over the last 31.2 innings (excluding Wade LeBlanc's injury shortened outing), good for a 1.65 ERA.
Who could have seen that coming? OK, put your hand down. No one could have seen this coming. But Happ and Jon Lester have put together solid consecutive outings. Adam Wainwright has been his normal steady self, with his most recent outing being an 88-pitch shutout of the Pirates. And Jack Flaherty, their unquestioned ace, is off the injured list for the first time in over 70 days and picked up where he left off, throwing six shutout innings, and improving to 9-1 on the season.
The pressure is on the rotation to perform well throughout the last 45 games of the season and odds are, Happ will regress at some point. A FIP over 4 indicates it. But with Arenado and Goldschmidt heating up, and Tyler O'Neill remaining his normal steady self, it gives Happ, Lester and the rest of the rotation some room for error.
We have seen the benefits of that throughout this recent hot stretch for the Cardinals, with the team climbing to only four games behind the San Diego Padres for the second wild card spot. And if the rotation continues to pitch at this level, it may not be long until they overtake the Padres in the wild card race.