St. Louis Cardinals look superior in sweep of Kansas City Royals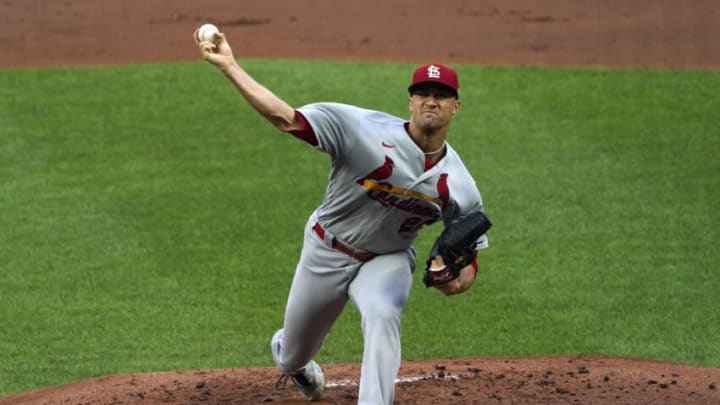 Jack Flaherty #22 of the St. Louis Cardinals throws in the first inning against the Kansas City Royals at Kauffman Stadium on August 13, 2021 in Kansas City, Missouri. (Photo by Ed Zurga/Getty Images) /
It may have been just the Kansas City Royals, but with a second straight sweep, the St Louis Cardinals seem to be positively turning things around.
The St. Louis Cardinals looked like the team we've been waiting all summer for this weekend as they swept the Kansas City Royals at Kauffman Stadium. It was great to see.
The Cardinals won Friday 6-0, Saturday 9-4 and Sunday 7-2.
There was not a lot of bad or ugly, so let's discuss the good.
The Good
Jack Flaherty continued where he left off while on the injured list with an oblique injury the past two months. He looked great Friday pitching six innings, giving up two hits and striking out five. He induced eight swing and misses. Now 9-1 on the season, Flaherty's shutout was kept intact with help from the bullpen, T.J. McFarland, Giovanny Gallegos and Ryan Helsley.
The offense got started in the fourth inning with Nolan Arenado blasting his 23rd homer of the year, which travelled 398 feet. Tyler O'Neill followed up with a homer of his own, his 19th of the season, which travelled 423 feet.
In the fifth inning, Arenado hit a sac fly to center, scoring Tommy Edman. In the eighth inning, Yadier Molina singled to right, allowing Paul Goldschmidt to score. Paul DeJong hit a sacrifice fly to right field, scoring O'Neill.
Lars Nootbaar hit his second home run of the season, a 449 foot blast to center.
On Saturday, Edman hit a single to get the offense going, allowing Molina and Nootbaar to score.
In the seventh, Goldschmidt singled to score Edmundo Sosa and Edman to score. Arenado hit his 24th homer of the season, scoring Goldschmidt. The blast travelled 384 feet.
In the ninth, Goldschmidt hit a sacrifice fly to center, scoring Harrison Bader. Arenado hit a ground-rule double on a fly to left center, scoring Sosa and Edman.
Jon Lester earned his first win as a Cardinal, pitching 5.2 innings, giving up seven hits, two walks and one earned run. He struck out two. Ryan Helsley held the lead pitching 1.1 innings, walking one, giving up one hit and striking out three. Luis Garcia pitched the eighth inning, striking out two. Andrew Miller tried to make things interesting in his portion of the ninth, giving up four hits and three runs. Genesis Cabrera took the final two thirds of the inning, striking out one.
On Sunday, the scoring got started in the first inning when Arenado singled to score Edman. Jose Rondon knocked a double to left field, allowing Goldschmidt and Arenado to score. In the second inning, Goldschmidt doubled to left, allowing Edman to score.
The middle of the lineup did it again in the second as Arenado hit his 25th homer of the season, a 404 foot blast traveling 108 mph, to score Goldschmidt. Tyler O'Neill hit his 20th homer of the season on a fly to center. It was a 432 foot blast, traveling at 110.1 mph.
J.A. Happ earned the win going 5.2 innings, giving up five hits, two walks and striking out two. Luis Garcia pitched an effective 1.1 innings. Justin Miller pitched the eighth inning giving up three hits and two earned runs, including a home run to Salvador Perez. He did strikeout one. T.J. McFarland pitched the ninth, giving up one hit and striking out one.
O'Neill had a pretty great defensive play on Sunday, too. Check this out:
In conclusion, the Cardinals looked so much better on this road trip. Sure, it was against the Pittsburgh Pirates and Kansas City Royals, but considering how the Cardinals have looked at many points this summer, this was refreshing and provided a sense of hope.
Flaherty having such a good first start back is excellent news. He is the ace and he showed that Friday. With Adam Wainwright taking the ace reins in his absence, they will now have a pretty good 1-2 punch. Miles Mikolas seems to be on his way back. J.A Happ and Jon Lester have been good additions. Wade LeBlanc should be back soon. Hopefully, Kwang Hyun Kim will return soon as well.
Nolan Arenado had a great series against the Royals. After struggling some against the Pirates, it was nice to see he and Tyler O'Neill go back to back a couple of times this weekend. Hopefully this builds some momentum for the team going forward.
The Cardinals return to Busch this week and take on the division leading Milwaukee Brewers. Now 61-56, the Cardinals are 10 games back of the Brewers. It will be great if the Cardinals can chip away at that huge lead the Brewers have over the Central. The Cardinals are two back of the second place Cincinnati Reds. The Cardinals are 4.5 back in the Wild Card standings.
It won't be easy, but here's hoping the Cardinals do chip away at the Brewers lead. The series with the Brewers begins Tuesday at Busch.
Get your popcorn ready!