St. Louis Cardinals, Gymnastics, and the Pursuit of Perfection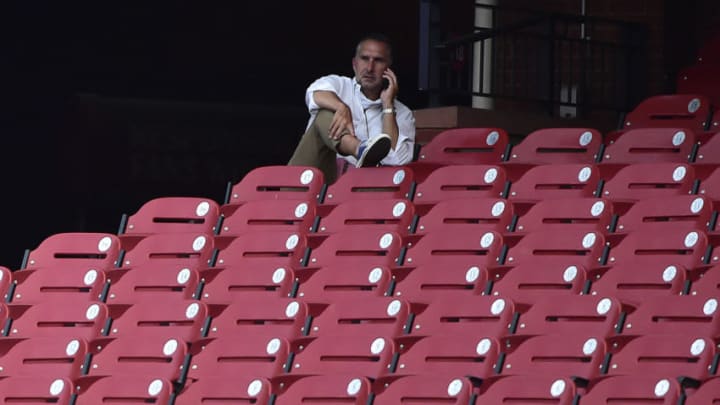 John Mozeliak looks on from the seats during workouts at Busch Stadium. Mandatory Credit: Jeff Curry-USA TODAY Sports /
Nobody's perfect – baseball players, front offices, or gymnasts – and fans need to keep that in mind.
They say hitting a baseball is the hardest thing to do in sports.  That's quite possible, but then, how many ball players have ever attempted a 2.5 twisting Yurchenko vault?
Failure is a natural part of baseball, with the very best batters unable to reach base nearly 60% of the time.  But there's usually another chance just a couple innings later.
Failure in gymnastics entails not sticking the landing perfectly, typically costing the gymnast something like a tenth of a point, which could be the difference between a place on the podium and a place in the stands during the Olympic medal awards ceremony.  And the next opportunity – if there is one – typically is four years away.
There's been a lot going on in sports lately – baseball's trade deadline just passed, the Olympics are ongoing, and the NBA draft was held recently – and while everyone is trying their best, no one will be perfect.
And when those imperfections are laid bare for the world to see, a portion of the world is going to attack, whether it's a sportswriter complaining their local franchise didn't do enough at the deadline or an anonymous commenter creating crushing, heartless posts about the lack of "intestinal fortitude" on an athlete's part.
St. Louis Cardinals president of baseball operations John Mozeliak and general manager Mike Girsch have been exploring ways to make the Cardinals better, both in the immediate and long-term future.  One hope was their efforts would include trading for both pitching and hitting help, with the distinct possibly of surrendering a top prospect like Matthew Liberatore, Nolan Gorman, or Jordan Walker as part of an effort to bring in big-name players, preferably controllable beyond 2021.
Another consideration was dealing away Kwang Hyun Kim and acquiring prospects who can help the team in 2022 and beyond.
Sending John Gant and minor league left-hander Evan Sisk to Minnesota for veteran lefty J.A. Happ, followed by moving outfielder Lane Thomas to Washington for fellow veteran southpaw Jon Lester was…well, it was another way to go.
Doing nothing and letting things ride was a viable path to pursue.  And considering what was done, particularly given the team's low odds of reaching the postseason, many fans think it would have been a better one.
Success or failure on the part of the Cardinals' brain trust will be evaluated not just over the next couple of months but over the next several years.  There will be ups and downs, successes and disappointments.  And there will be further opportunities to adjust as the circumstances dictate.
Simone Biles is trying to get her mind and body in sync, dealing with the "twisties."  She is facing her final chance at Olympic glory – or it may have passed already.
Having previously withdrawn from the team competition, the individual all-around, and the vault, uneven bars, and floor exercise finals, she still is deciding whether to participate in the finals of the balance beam.  There will be no more Olympics for Biles, as 24 years old is stretching the upper age boundary for a female gymnast, let alone 27 years old when Paris hosts the games.
Of course, Biles doesn't need more medals to cement her place as women's gymnastics' GOAT.  She locked up that designation long ago.
If she does compete in the coming days, her success or failure will be decided almost immediately, and there will be no next chance if she slips or stumbles.  And all eyes will be watching her every movement – whether in competition or on the sidelines.
Perfection is impossible, as is trying to comprehend what elite athletes – and those who work to assemble teams full of them – face as they strive to achieve it.  However, compassion is something we're all capable of.
So when your team makes a trade that leaves you scratching your head, or the athlete you most admire stumbles and falls, remember, they're trying their best – for themselves and for those who cheer for them.
You may be unhappy with the outcome, but consider how displeased these individuals are with themselves.  And while it's understandable to want to vent your frustration, take a moment to consider the bigger picture and the impossibility of anyone being perfect.