St. Louis Cardinals Prospect Nick Plummer: Bust or Not?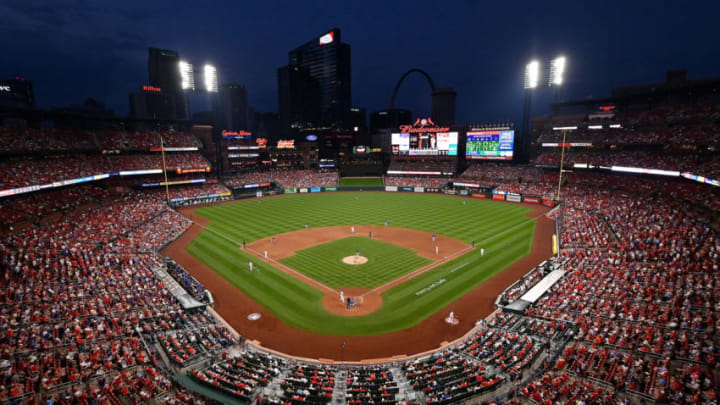 May 23, 2021; St. Louis, Missouri, USA; A general view of Busch Stadium during the seventh inning of a game between the St. Louis Cardinals and the Chicago Cubs. Mandatory Credit: Jeff Curry-USA TODAY Sports /
With the St. Louis Cardinals in the process of the MLB Draft, lets' reflect on the 2015 first-round pick, Nick Plummer.
The St. Louis Cardinals have had a lot of bad drafts previously stemming from taking upside players over proven players. In 2015, the Cardinals selected outfielder, Nick Plummer and the player that went right behind him was star pitcher, Walker Buehler.
Up until this season, Plummer has been of no value to the Cardinals organization and was deemed a bust by most Cardinals fans however, there may have been a turn-around in Plummer's career after this off-season.
When you look at even the competition that Plummer was facing in Low-A ball, he just couldn't figure anything out.
2015
In 2015 the Cardinals' first-round selection was sent to summer ball before really starting his career in the organization, or so they thought. Plummer ended up playing in 51 games that season and slashing .228/.379/.344 with only one home run, 22 runs batted in, 39 walks and 56 strikeouts. Not being near where they wanted Plummer to be at the start of his career, he was then put in Low-A ball to start the 2017 season after missing the 2016 season.
2017
Plummer struggled again in the 2017 season that created quite the conflict between people in the Cardinals organization. They went for the upside pick instead and now it's looking horrible for the Cardinals after Buehler was already climbing the ladder of success. Plummer was in Low-A and slashed .198/.353/.288 with only four home runs, 17 runs batted in, 53 walks, and 109 strikeouts in 92 games.
2018
In 2017 there appeared to be a lot of room for growth, but he needed to really work on helping himself and working hard to improve his game. The Cardinals ended up keeping him in Low-A ball for the 2018 season, and he did improve slightly, but not anywhere close to what they were looking for. In 104 games he slashed .205/.349/.339 hit eight home runs, 30 runs batted in, 67 walks, and 131 strikeouts.
2019
More from St Louis Cardinals Prospects
Nick Plummer has a little bit of a better season in 2018 but had a worse season in 2019 than he did in 2017. Plummer played in High-A ball for the 2019 season and hit .176/.312/.294 with five home runs, 29 runs batted in, 47 walks, 119 strikeouts in 96 games. Plummer took a drastic decline in 2019 once being moved up to High-A ball. He had been in the Cardinals farm system for the last four years, and it was proven at this point that he was looking as one of the biggest busts in the Cardinals farm system.
The 2021 Turnaround
After missing an entire season due to COVID-19, Plummer had the entire year to work on his game and finding out rather or not baseball is something he really wanted. After deciding he wanted to take it seriously and want to make it, he spent the entire year working on his game with hitting coaches and finding errors in his swing, and correcting them. I wasn't sure personally when I heard the story that he could turn his career around however, this far into 2021, he has.
So far in the 2021 season, he is slashing .307/.414/.507 with 10 home runs, 36 runs batted in, 34 walks, 74 strikeouts in 65 games for AA Springfield. His stats while playing in just A-ball doesn't even come close to how well he is performing this season.
Plummer has been considered a bust to most people but is it possible he could be a future Cardinals outfielder? The way the Cardinals have played so far this season, it shouldn't be much of a reach that we could see Plummer play in AAA or even the majors this season. However, the matter that Plummer has spent five years in the Cardinals system, is there a chance at redemption in his career?