Cardinals Rumors: St. Louis in talks with Shelby Miller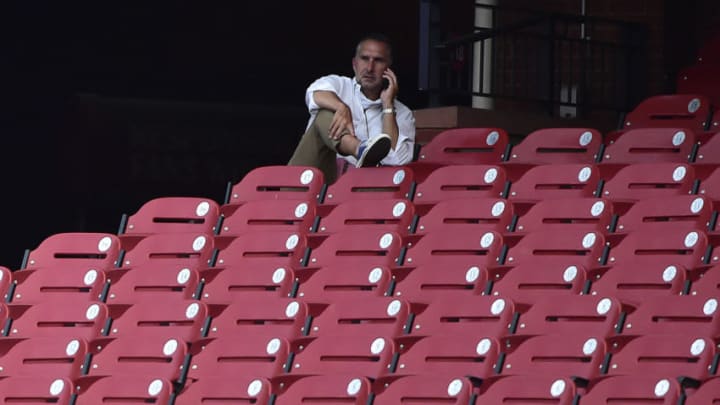 John Mozeliak looks on from the seats during workouts at Busch Stadium. Mandatory Credit: Jeff Curry-USA TODAY Sports /
The St. Louis Cardinals need pitching. Badly. They are reportedly in talks with veteran right-hander Shelby Miller.
With the St. Louis Cardinals in desperate need of pitching, and a lot of it, they have understandably been mentioned on the trade market. Among the names they have been connected to include Washington Nationals ace Max Scherzer, but like most of the trade options, does not figure to be available until July.
So what about the free-agent market?
The options are thin, but Derrick Goold of the St. Louis Post-Dispatch reported that the Cardinals are showing interest in free-agent pitcher Shelby Miller. Miller responded to the report with a handshake and telling Goold to "stay tuned."
So there appears to be a pretty decent chance this happens, if it hasn't been agreed to already. But it's a move that makes a lot of sense for the Cardinals. Miller, 30, had 1.74 ERA in 10.1 innings pitched with the Chicago Cubs in Triple-A this season and has logged 760.1 career innings in the majors, posting a 4.18 ERA and 623/303 strikeout-to-walk ratio.
Miller, if signed, would presumably start with Triple-A Memphis. He'll need time to build up and get ready to pitch in a major-league game again, considering he has logged only two MLB innings since 2019. But Miller would provide the Cardinals with organizational depth and someone who has a track record of success, something they desperately need with Jack Flaherty, Miles Mikolas and Kwang-hyun Kim all on the injured list.
It would behoove president of baseball operations John Mozeliak to continue pursuing other free-agent pitchers, perhaps Homer Bailey, while keeping an eye on the trade market. The Cardinals need help, and a lot of it, with three starters down and Carlos Martinez struggling at a rate that may force the team to remove him from the rotation at some point.
The Cardinals are 32-30 and three games out of the National League Central. But they are 2-8 in their last 10 games and if they don't do something soon, could find themselves in fourth place with the Cincinnati Reds lurking close behind.