What should the St. Louis Cardinals do at the trade deadline?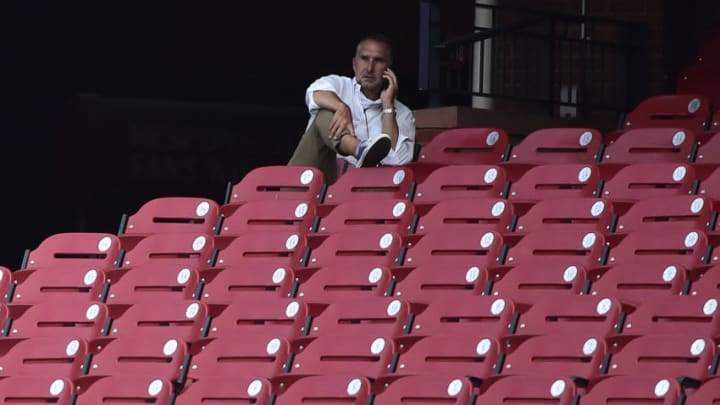 John Mozeliak looks on from the seats during workouts at Busch Stadium. Mandatory Credit: Jeff Curry-USA TODAY Sports /
Where will the St. Louis Cardinals explore upgrades come the trade deadline? Look no further than the pitching staff.
The St. Louis Cardinals will be buyers at the trade deadline. Their strong start, and offseason trade to bring in Nolan Arenado, has all but confirmed that. But where exactly will they buy?
Zachary Silver of MLB.com recently posed the question and as he wrote, the answer is not clear. But it would make a lot of sense for the Cardinals to upgrade their pitching, whether it be in the rotation and/or bullpen.
The obvious name, as Silver said, is Max Scherzer. The right-hander is among the most dominant pitchers in recent MLB history and Scherzer, who grew up in the St. Louis area, would give the Cardinals arguably the best one-two punch alongside Jack Flaherty. The price to acquire Scherzer figures to be expensive, as Nationals general manager Mike Rizzo is never a willing seller, but with the team at 17-23, trading a player like Scherzer in a contract year would make plenty of sense.
The other name, of course, is Colorado Rockies pitcher Jon Gray. I recently wrote about that possibility and I have heard nothing in recent days that makes me think he'll be in Colorado after July 30, with a trade potentially happening sooner than later.
If the Cardinals look at bullpen upgrades, and they should with Jordan Hicks out indefinitely and the team having an astronomically high walk rate, they should have plenty of options. Brad Hand of the Nationals is one option. They could also look at the Rockies, Pittsburgh Pirates, Minnesota Twins and Texas Rangers, among others, figure to be sellers, with intriguing options such as Alexander Colome and Mychal Givens figure to be available.
There will be plenty of rumors and options for president of baseball operations John Mozeliak to consider at the trade deadline. But there is no question that the Cardinals will be buyers, and potentially aggressive ones, before July 30.