Cardinals News: St. Louis announces alternate training site plan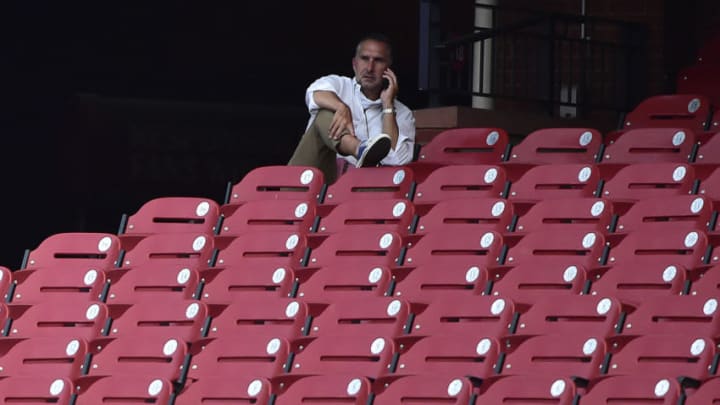 John Mozeliak looks on from the seats during workouts at Busch Stadium. Mandatory Credit: Jeff Curry-USA TODAY Sports /
With the Triple-A season now delayed, teams need to find an alternate training site. The St. Louis Cardinals have finally found theirs.
The St. Louis Cardinals announced that the GCS Credit Union Ballpark in Sauget, Illinois, home of the independent Frontier League's Gateway Grizzlies, will serve as the alternate training site in 2021.
There will be 28 players on site, which will be run by Triple-A staff. The names of the players are not yet clear, but it will likely end up being many of the organization's top prospects and many pitchers the team believes can contribute at the major-league level.
Major League Baseball recently delayed the start of the Triple-A season, hence the need for an alternate training site. It was delayed by a month, but there has been support for it to become a year-round part of the game, considering players are within close proximity of the major-league team in case of injuries.
It could be particularly useful for the Cardinals for a different reason this season, however. They are light on pitchers and just lost Miles Mikolas for an uncertain amount of time. In his absence, the team can shuttle pitchers back and forth to ensure their arms stay fresh throughout the season. They can do it with other parts of the roster, of course, but the demand for fresh pitchers and options out of the bullpen has never been greater with the increase to 162 games.
While it does not give the Cardinals an advantage, per se, it does give them some flexibility for the regular season that they otherwise would not have had. But now that the plan for the alternate site is in place, it allows the club to get it ready for action with three weeks until Opening Day.