St. Louis Cardinals targeting increased workload for Alex Reyes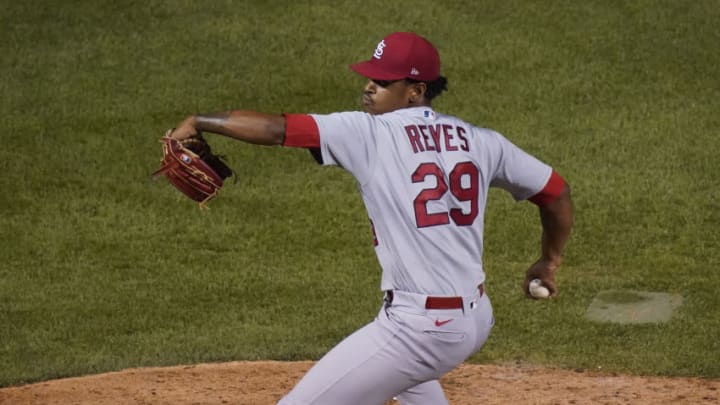 Alex Reyes #29 of the St. Louis Cardinals throws a pitch during the seventh inning of a game against the Chicago Cubs at Wrigley Field on September 06, 2020 in Chicago, Illinois. (Photo by Nuccio DiNuzzo/Getty Images) /
Alex Reyes has been mentioned as a breakout candidate for the St. Louis Cardinals. Now, the team is eyeing an increased workload for him.
The St. Louis Cardinals are going to have to get creative eating innings this season. Their rotation and bullpen lack proper depth. Some of their starting pitchers have struggled early on in camp, leading to more concerns about a pitching staff that entered the spring with question marks.
Which means the Cardinals will need someone to step up. It appears they have already found their guy.
The Cardinals have discussed an innings target in the range of 100 for pitcher Alex Reyes, general manager John Mozeliak told reporters, including Brendan Schaeffer of KMOV.
It would be a workload that makes a lot of sense for Reyes, considering that injuries have led to him not becoming the starting pitcher the Cardinals thought as he was working his way through the minors. What that role would look like, however, is unclear, though it would likely be in the form of multi-inning appearances sprinkled in with one-inning appearances.
Reyes, 26, has impressed early on at Cardinals camp. Despite injuries, he remains one of the team's most talented young players and he's been able to consistently hit the strike zone this spring. It's something that he has struggled to do when he has been on the mound and if he can translate that consistency to the regular season, he has a chance to become one of, if not the most important, relievers for the team this season.
It also makes him a clear breakout candidate, and something that should bring career-high numbers if he does stay healthy and pitch 100+ innings. The early signs during camp have pointed in that direction and it has had the front office gushing privately about what he could bring to the bullpen this season.