What switching agents means for Harrison Bader, St. Louis Cardinals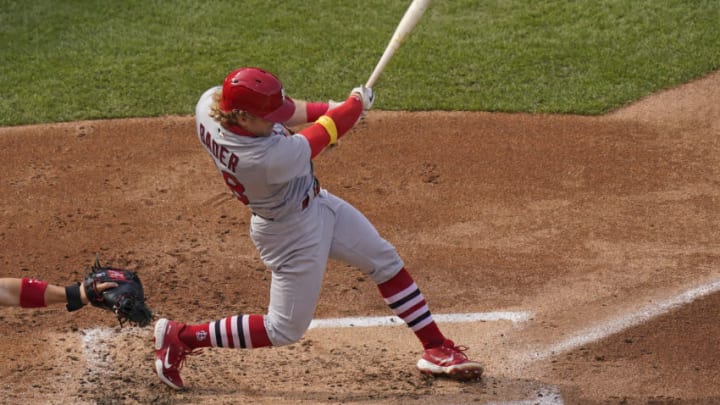 Harrison Bader #48 of the St. Louis Cardinals hits a double during the third inning of a game against the Chicago Cubs at Wrigley Field on September 07, 2020 in Chicago, Illinois. (Photo by Nuccio DiNuzzo/Getty Images) /
What switching agents means for Harrison Bader and St. Louis Cardinals moving forward.
St. Louis Cardinals outfielder Harrison Bader has switched agencies and is now represented by Jeff Randazzo of the Ballengee Group, as first reported by Jon Heyman of MLB Network.
The move, at least in the short term, should not have any impact on Bader. But it is something to be mindful of in the long run as Bader could either be 1) a non-tender candidate or 2) in line for a contract extension. It all depends on how he performs this season and if he can be more consistent at the plate. But if he does flash more ability at the plate, and the two sides do approach one another about an extension, Randazzo and Ballengee have a strong relationship with the organization as they also represent reliever Jordan Hicks, among others.
This is arguably the most important season of Bader's career. He is pencilled in as the Opening Day center fielder. He has flashed elite ability in the outfield, ranking at the top of most defensive categories. It is why the Cardinals are comfortable starting him in center field despite his obvious struggles offensively. Their up-the-middle defense, even without Gold Glove second baseman Kolten Wong, should remain strong in large part because of Bader.
But this season will most likely determine Bader's long-term outlook with the franchise. Bader, 26, simply has not been good enough at the plate. That is putting it nicely. In four seasons in the majors, he has hit .234/.322/.399 with 31 home runs and 97 RBI. His most recent season, in 50 games in the shortened 2020 season, he hit .226/.336/.443 with four home runs and 11 RBI in 50 games.
Bader has the ability to become a more talented hitter, and it is on him to become more consistent against right-handed pitchers, something he has struggled with throughout his career. But in moving back to Ballengee he clearly has an eye toward the future. It's now on him to put it together on the field.