John Mozeliak wants what most St. Louis Cardinals fans do: more offense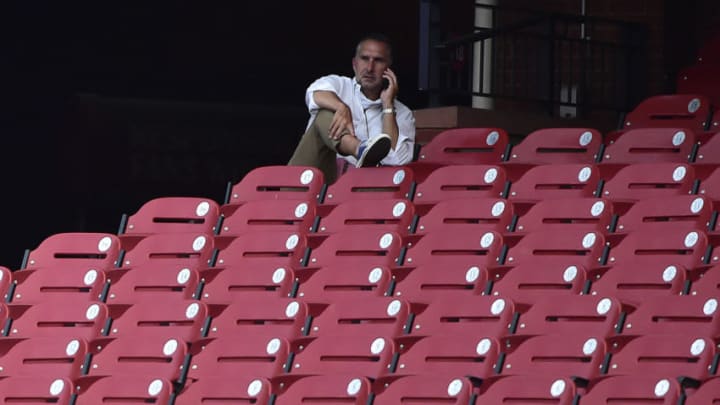 John Mozeliak looks on from the seats during workouts at Busch Stadium. Mandatory Credit: Jeff Curry-USA TODAY Sports /
John Mozeliak, president of baseball operations for the St. Louis Cardinals, shares a common request with most fans of the team.
John Mozeliak was not shy about what he expects from this team's offense: more runs.
While projections may not show favorably for more scoring for the Cardinals this summer, I believe this is probably going to be one of those occasions where you have to play the game to see how things actually turn out.
Nolan Arenado was the key acquisition of the winter. He is seen as the big boost the Cardinals desperately needed this offseason. Arenado is projected by ZiPS to be a 3.8 WAR player with a .289 batting average, 32 home runs, 86 runs and 99 RBI.
Arenado's projections are just above the major acquisition of the 2019 offseason in Paul Goldschmidt. He's projected as a 2.1 WAR player with a .261 batting average, 23 homers, 79 runs and 72 RBI.
Paul DeJong is expected to be the next big run producer. The 2.9 WAR shortstop is projected to have a .245 batting average with 23 homers, 76 runs and 83 RBI.
Arenado, Goldschmidt and DeJong are the obvious bright spots for the Cardinals run projection. Where offense comes from next is where you will really have to see the game played as projection numbers are low.
It will be interesting to see how the next few weeks of spring training play out as everyone in camp feels added pressure to succeed with Arenado's addition to the team.
They see their management wants success. Now, it is time to bring it.
Most fans want to see how outfield prospect Dylan Carlson does this spring. He is thought to be one of the team's three outfielders coming out of camp. This is something I definitely see happening. I think the addition of Arenado may relieve some pressure Carlson added to himself to be the next big producer after Goldschmidt and DeJong last season. After the trade of Dexter Fowler to the Los Angeles Angels, Carlson is hopefully able to relax, not feel so much pressure and gradually become the superstar he is expected to become.
Yadier Molina has been another trusted bat for the Cardinals. He is very streaky, though. Even ZiPS is projecting Molina and Andrew Knizner to have similar numbers. While Molina's batting average is slated to be .257, Knizner should have a .252 average. They are both expected to have eight home runs. Molina should have 36 runs and 46 RBI. While Knizner is expected to have 38 runs and 37 RBI.
I absolutely believe these projections will be way off for Molina. We just have to let him play and see what he brings. You can always see he wants to be that guy to bring in a run or move a guy from first to third. I trust Molina will still be that guy. I do hope they monitor Knizner and make sure he is fresh when he is needed.
Tommy Edman, Tyler O'Neill and Harrison Bader are three role players the team will want to see get on base and create some offense. While Edman can have the occasional dramatic hit, he and Bader are projected as the team's top base stealing threats. O'Neill has a streaky bat that can either drive a homer or get on base. O'Neill had an off 2020, so hopefully with the departure of Fowler, O'Neill will also have a more defined role which will allow him to relax and focus on getting in a better mindset for hitting.
The biggest question mark for 2021 will be Matt Carpenter. One of Mozeliak and manager Mike Shildt's favorite adages will come into play if we see a lot of Carpenter this summer – "His bat plays." Even if the designated hitter is brought back before the start of the season, it's hard to picture where Carpenter's bat would play. There is no way you play him over Arenado or Goldschmidt. And as Matt Graves wrote, we shouldn't expect Carpenter in the outfield. The only option may come at second base, but the team has made their projection clear with Edman.
Carpenter, 35, was a .3 WAR player in 2020, according to FanGraphs. He had a batting average of .186 in 169 plate appearances. You couldn't say his bat had to play in 2020, but it did considering all of the issues with COVID-19, etc.
The coming days will help determine if and how Carpenter will contribute to the Cardinals. This is his final year of a two-year, $39 million contract. There is a vesting option for 2022, but it's hard to see it being picked up performance picks up this season.
Spring Training brings a lot of unknowns with it as well and other players may get their shot.
That will be the great thing about Spring Training this season. The Cardinals have a nice core but there will also be so many possibilities with how this team comes together this summer.