St. Louis Cardinals News: New spring training schedule announced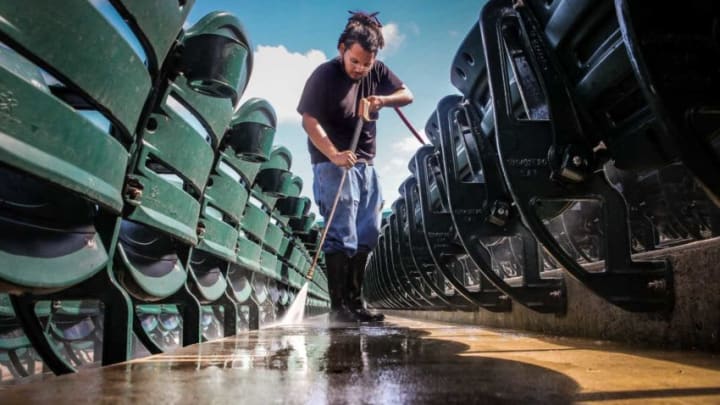 Shone Haas, an employee of ASI, pressure washes ground between stadium seats at Roger Dean Stadium Friday, February 9, 2018, in preparation of the start of the upcoming spring training baseball season. (Damon Higgins / The Palm Beach Post)Roger Dean 2020 101 /
With concerns about COVID-19, the St. Louis Cardinals have announced a new spring training schedule, focusing on the least travel possible.
Pitchers and catchers will report to spring training in less than a week. For the St. Louis Cardinals, Nolan Arenado will soon take the field for the first time in Cardinal red.
One of the biggest questions about spring training has been whether or not fans will be allowed into the stands. As of a couple of weeks ago, Roger Dean Stadium began selling at least some tickets.
While tickets began being sold for what was the original schedule, the MLB recently made changes to the schedule, re-releasing it.
As usual, the Marlins and the Cardinals will be playing many games against each other as they share Roger Dean, but the thing to notice here is that the schedule will now only feature teams on the East coast of Florida.
These changes were made to restrict travel needed to avoid risking players to COVID-19. The opponents are now limited to Houston, Miami, Washington, and the Mets. Another added feature of this schedule is night games, something that fans don't usually see during spring training.
Limited fans will make this year's spring training different than any other, but as long as there is no shutdown in the middle, it'll surely be better than last year. The Cardinals have already announced their non-roster invitees for the spring which feature multiple of the team's top prospects.
The Cardinals kick off their schedule with a game against the Marlins on February 28, just two weeks from now. Soon we will have what hopefully will be an uninterrupted six months of baseball.