Cardinals: Adam Wainwright believes Alex Reyes could breakout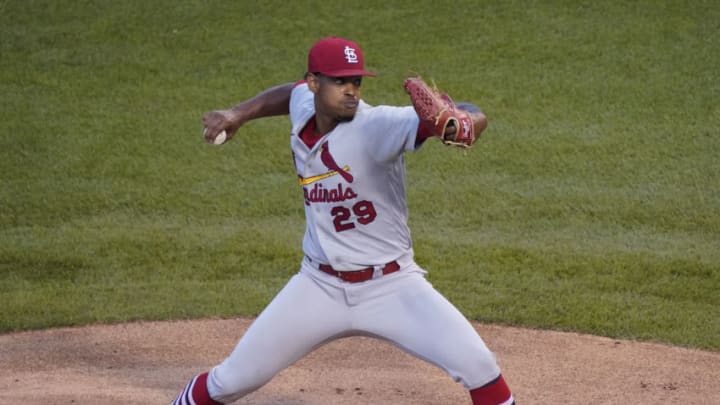 Alex Reyes #29 of the St. Louis Cardinals throws a pitch during the first inning of Game Two of a doubleheader against the Chicago Cubs at Wrigley Field on August 17, 2020 in Chicago, Illinois. (Photo by Nuccio DiNuzzo/Getty Images) /
Could Alex Reyes be in for a breakout season? Adam Wainwright believes so.
One of the strongest units on the St. Louis Cardinals is the bullpen, specifically their late-inning trio in Jordan Hicks, Andrew Miller, and Giovanny Gallegos. But in a recent interview, pitcher Adam Wainwright listed Alex Reyes as one of the players he is most excited about seeing this season.
"Just a force out of the bullpen at the end of the year," Wainwright said, via KMOX radio. "He could pitch in whatever capacity, whatever role he was asked to. So the question becomes, obviously, can he stay healthy as a starter? He's had some rotten luck with injuries, but he's one of the most talented guys I've been around."
Reyes, 26, finished last season with a 3.20 ERA in 19.2, perhaps most impressively striking out 27 batters. But something that he has struggled with since entering the league in 2016 is command. In his first season, he walked 23 batters in 46 innings. In '18 and '19, he walked eight batters in seven innings while only striking out three. In 2020, the numbers slightly improved, but 14 walks in less than 20 innings is something that the organization is going to have to cut down if he ever hopes of fulfilling his status as one of the organization's top pitching prospects.
But Reyes is someone the organization strongly believes in, from the front office to the coaching staff to the players. If he does channel his command, and starts throwing with more consistency, the Cardinals could have one of the best bullpens in baseball. And with teams increasingly concerned about their pitching staffs ramping up from 60 to 162 games, the organization could use all of the quality production it could get, especially with the Cardinals needing another starting pitcher after missing on some of their top targets.