St. Louis Cardinals: Manager expresses desire for Yadier Molina to return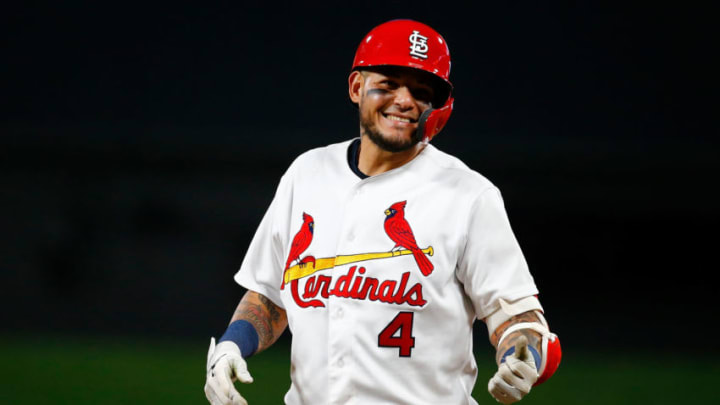 Yadier Molina #4 of the St. Louis Cardinals acknowledges teammates in the dugout after hitting an RBI single against the Milwaukee Brewers in the seventh inning at Busch Stadium on April 22, 2019 in St. Louis, Missouri. (Photo by Dilip Vishwanat/Getty Images) /
The conversation surrounding Yadier Molina's free agency is growing by the day, and St. Louis Cardinals manager Mike Shildt wants him to return.
Both the Cardinals and Yadier Molina have made it clear that they would like to work out a deal to keep the free-agent catcher in St. Louis. Yet, as of Dec. 19, Molina remains unsigned and there have been little indications of progress in negotiations.
Speaking on a Zoom conference call with reporters, Cardinals manager Mike Shildt reiterated his desire for Molina to stay in St. Louis, admitting that the thought of the longtime catcher playing elsewhere is "a hard place to go mentally.
"It's just a matter of how it can get worked out," Shildt said. "Time will tell, and it will probably tell relatively soon. Relative to thinking about life without Yadi … my head is not there."
Even then, there is a growing chance that Molina will not return in 2021. Interest in him has picked up, with the Washington Nationals joining a list of suitors that includes the San Diego Padres, Los Angeles Angels and New York Yankees. The New York Mets were involved, but after signing James McCann to a four-year, $40.6 million deal, they are out of the running.
"I'm not naïve (to the fact) that he might not come back – I get that – and then we'll pivot," Shildt said. "But, as far as putting mental energy towards No. 4 not being behind the plate for us, I haven't put a lot of consideration into that."
The Cardinals front office, of course, has planned for the scenario in which Molina leaves. But when both sides make it so clear, both privately and publicly, that they want a reunion, there is a strong chance an agreement is reached.
While negotiations have slowly progressed, it is the nature of the offseason. Talks leaguewide are moving slowly and the general expectation remains that the market will pick up sometime in January. It is likely that the Cardinals and Molina will find common ground at some point around then, most likely on a one-year deal with a club or mutual option for 2022.
In the meantime, however, Molina will continue his talks with the Cardinals and other teams. And until he reaches a deal with St. Louis, the chance of him playing elsewhere next season exists.