Cardinals Rumors: St. Louis makes "ridiculous" offer to Yadier Molina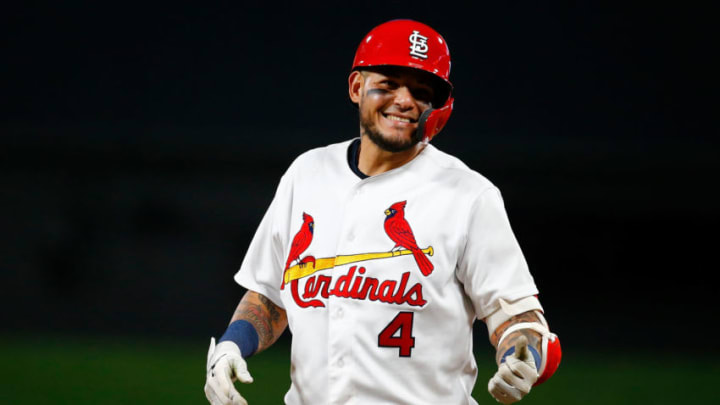 Yadier Molina #4 of the St. Louis Cardinals acknowledges teammates in the dugout after hitting an RBI single against the Milwaukee Brewers in the seventh inning at Busch Stadium on April 22, 2019 in St. Louis, Missouri. (Photo by Dilip Vishwanat/Getty Images) /
The St. Louis Cardinals are attempting to re-sign Yadier Molina, but according to one report, the two sides are far apart in negotiations.
The St. Louis Cardinals' contract negotiations with free-agent catcher Yadier Molina are not going well. The two sides have made little progress in talks, with Molina and his agent, Melvin Roman, believing the latest offer was "ridiculous," according to Mark Saxon of The Athletic.
While the wording of this report indicates that a deal is far from close, it does not change anything about the chances of Molina staying in St. Louis. This is part of negotiations. Teams start low and agents aim high. From there, they work to find middle ground and try to hash out a deal. And it appears that the two sides are nowhere close to reaching that point.
"This month historically in baseball has been when teams are really ramping up and you're starting to see clubs finalize what their team's going to look like," Cardinals president of baseball operations John Mozeliak said Wednesday, via Saxon. "I really feel like January is the new December as we move forward."
It is concerning, of course, that Molina reportedly believes that the offer was "ridiculous." Molina is seeking a two-year deal and it is possible that the Cardinals, who want to maintain long-term financial flexibility, will only be willing to offer one-year.
The most likely outcome remains that the 38-year-old will complete a deal to return to St. Louis, but the market for his services is strong. The San Diego Padres, Los Angeles Angels, New York Mets and New York Yankees are all involved in the bidding for Molina.
Molina should have no problem landing a two-year deal or, as Saxon suggests, a one-year, $10 million deal with an option for 2022. But with January being the new December, it appears that Molina – and most of the other free agents – are going to be waiting on the market for the foreseeable future.