Cardinals Rumors: Insider believes Molina, Wainwright return to St. Louis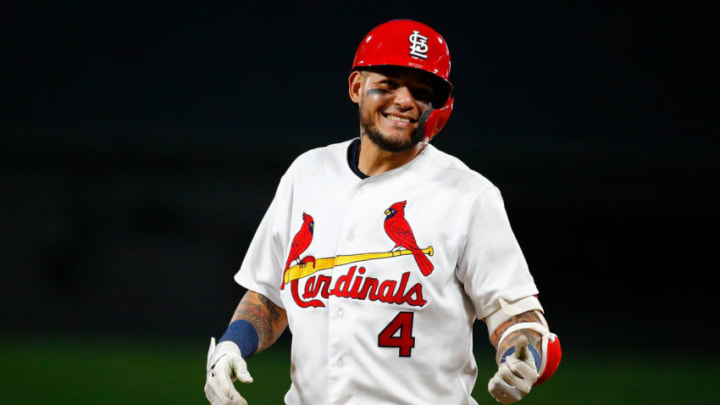 Yadier Molina #4 of the St. Louis Cardinals acknowledges teammates in the dugout after hitting an RBI single against the Milwaukee Brewers in the seventh inning at Busch Stadium on April 22, 2019 in St. Louis, Missouri. (Photo by Dilip Vishwanat/Getty Images) /
The Cardinals' offseason revolves around free agents Yadier Molina and Adam Wainwright, and one insider believes both return to St. Louis.
The St. Louis Cardinals have made it clear that the potential re-signings of Yadier Molina and Adam Wainwright are their top priorities this winter, and Bob Nightengale of USA Today believes both players will be back in 2021.
"Well I still think Adam Wainwright comes back on the same type of contact he's signed the last couple of years," Nightengale said in an interview with KMOX St. Louis News.
The clubs preference appears to be Molina. He has been a key component to the franchises success for nearly two decades and with a lack of internal options, president of baseball operations John Mozeliak may prefer to keep him around. The holdup, however, appears to be the extra year that Molina is demanding.
"I think the Cardinals are saying, 'We don't think we're going to give him a two-year contact, but we'll certainly match anybody with a one-year contract,'" Nightengale said. "So I think Yadi comes back too."
Further fueling the speculation that both will be back is that Mozeliak, known for not commenting on players on his team, recently addressed the possibilities of both players by saying the team "might have some more clarity on that in the near future."
"I think certainly for us it would be nice to know if we're going to find a way to bring them back or not," Mozeliak told KMOX St. Louis News. "So, in an ideal world these things could have already been done or determined, but unfortunatley for all the reasons we've already stated, that's why we are where we are at this point."
For the Cardinals, the sooner they have clarity on either players, the sooner they will be able to pursue upgrades on other parts of the roster. And perhaps that will come earlier than expected.