Cardinals: St. Louis should move on from Carlos Martinez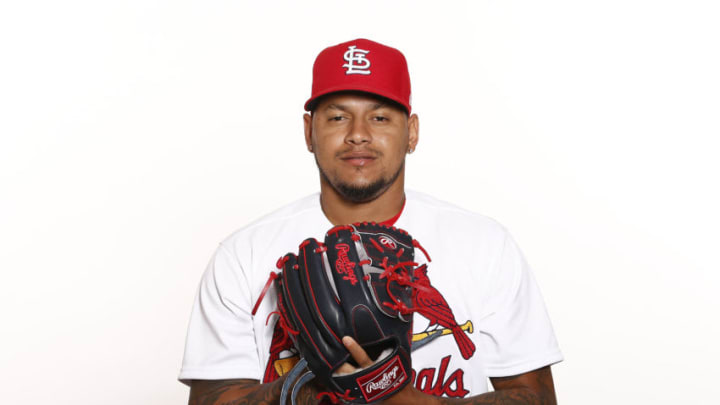 Carlos Martinez #18 of the St. Louis Cardinals poses for a photo on Photo Day at Roger Dean Chevrolet Stadium on February 19, 2020 in Jupiter, Florida. (Photo by Michael Reaves/Getty Images) /
The St. Louis Cardinals need to move on from pitcher Carlos Martinez … but will anyone want him?
Deserved or not, St. Louis Cardinals pitcher Carlos Martinez continues to be the subject of criticism from fans for his reported off-the-field issues. The flames were fanned further Monday with a report that he was taken into custody for violating social distancing protocols in the Dominican Republic. While a later report from Derrick Goold of the St. Louis Post-Dispatch said Martinez was only taking part in a video and drew a crowd, the crevasse has only deepened between Martinez and the Cardinals faithful.
Earlier this year, another report surfaced that Martinez was among a few other Cardinals who visited a casino and contracted COVID-19. However, the Cardinals and president of baseball operations John Mozeliak denied the allegations.
These aren't the only events that have left sour tastes in fans' mouths regarding Martinez, though. In February 2019, an article in The Athletic stated that Martinez didn't obey the team's guidelines on treating his injured shoulder. According to Mozeliak, Martinez spent too much time weight training and not enough on physical therapy, leading to a delay in his recovery time.
Finally, there was a since-dismissed lawsuit filed against Martinez in 2018. The plaintiff accused Martinez of assault, battery, civil conspiracy and in-concert liability when taking part in a fight in a parking lot in 2014.
Whether one believes all, some or none of these stories, there is no debate that Martinez's reputation in fans' eyes has been tarnished, perhaps irreparably. Not helping the matter is Martinez's inconsistency on the mound, especially in a starting role, where he occasionally showed flashes but has too often been knocked around more than his arsenal suggests he should.
Martinez did show potential in a closer's role in 2018 and 2019, converting 29 of 32 save opportunities. But according to the Post-Dispatch, Martinez wanted to return as a starter in 2020, although it might have hurt the team in the long run, as other, possibly more capable arms for the rotation were relegated to the bullpen.
The Cardinals were reportedly shopping Martinez in the offseason, but many teams could be wary of a player with so much baggage. The fact that Martinez is continually in the center of such controversy, even if undeserved, makes it more urgent than ever for St. Louis to cut its ties with him and extinguish the fire between him and the fans.
But will any team want him?