St. Louis Cardinals: 20 Things to know about the late, great Mr. Brock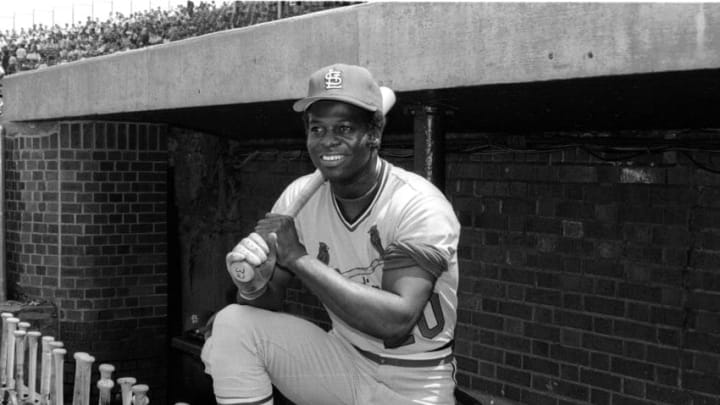 CHICAGO - UNDATED 1978: Lou Brock of the St Louis Cardinals poses before a MLB game at Wrigley Field in Chicago, Illinois. Brock played for the St Louis Cardinals from 1964-79. (Photo by Ron Vesely/Getty Images) /
The St. Louis Cardinals lost a great person and player who burned up the basepaths in the '60s-'70s. Here are 20 things to know about Lou Brock.
"I've always wanted to leave baseball in a blaze of glory," Lou Brock said in 1979, his 19th and final season as a major leaguer. That year, the St. Louis Cardinals' left fielder, who passed away Sunday at age 81, hit .304 in 120 games and reached the 3,000-hit mark, finishing with 3,023.
Brock's 938 career steals were a major-league record until surpassed by the A's Rickey Henderson in 1991.
Here are 20 things you ought to know about the Cardinal who wore No. 20 from 1964 to 1979.
No. 1: He was an exceptional human being. ESPN senior writer Tim Kurkjian described him earlier this year as, "the sweetest, kindest man, a gentleman in every sense of the word." Former teammate Keith Hernandez called him "an extraordinary man." Hernandez joined the Cardinals as a 20-year-old in 1974 when Brock was 35 and en route to stealing a then-record 118 bases. "For him to be a superstar and I, as a young kid, who was struggling, to take me under his wing and offer all his advice is a testament to who he was."
Longtime teammate Bill White, who was there when Brock came to St. Louis in 1964, called him "a good teammate, one of the best anybody could have. One hundred percent all the time. Two hundred percent."
No. 2: He credited Harry Caray with teaching him how to hit. Brock listened to the then-Cardinals announcer on KMOX growing up. "Harry Caray taught me how to hit," he said, quoted in The Cardinals Encyclopedia (Mike Eisenbath, 1999). "He would describe the way the big league players stood in there to bat, and we would emulate it. No one stood there and showed us where our feet were supposed to be, or how we were supposed to hold our hands. As it turned out, I wasn't far off."
No.3: He went to college on an academic scholarship. Brock received no athletic scholarship offers after graduating from his Louisiana high school in 1957, but he did receive an academic scholarship to attend Southern University, a historically Black university in Baton Rouge. A math major, Brock lost his scholarship due to poor grades in his first semester but soon replaced it with an athletic scholarship.
No. 4: He tore it up as a college sophomore. As a freshman, Brock hit just .140 and later claimed he "kept the air around home plate cool" by striking out so often. But his next year he hit .545 with 13 home runs in 27 games. Southern beat Omaha University to win the NAIA championship, becoming the first Black school to achieve that feat.
No. 5: He signed with the Cubs in 1961. In his first professional season, Brock, 22, hit .361 for the St. Cloud (Minn.) Rox, winning the Northern League batting title. He smacked 14 homers, drove in 82, and scored 117 runs in 128 games.
No. 6: Lou Brock, power hitter? Though only 5-11, 170 lbs., Lou made his biggest noise in four years as a Cub by slamming an epic homer in New York's Polo Grounds on June 17, 1962. The blast traveled an estimated 485 feet and was just the second home run to clear the right-center-field bleachers at the old park, which was notorious for its 455-foot distance from home plate to center field.
No. 7: Many objected to the 1964 Broglio-for-Brock trade. "We thought it was the worst trade ever," Bob Gibson said. Brock had hit just .257 in his time with the Cubs and struggled with the Wrigley Field sun as an outfielder. "None of us liked the deal," Bill White said, quoted in The Spirit of St. Louis: A History of the St. Louis Cardinals and Browns (Peter Golenbock, 2000). "But somehow, when he came to us, he turned everything around." Columnist Bob Smith of the Chicago Daily News considered the trade a steal — for the Cubs. He wrote, "Thank you, thank you, oh, you lovely St. Louis Cardinals. Nice doing business with you. Please call again anytime."
No. 8: Broglio had been an excellent player. The pitcher "became the object of scorn of media and fans alike," Russell Lake of sabr.com wrote, but Broglio should be remembered as a first-rate Cardinals pitcher who won 21 games with a 2.74 ERA in 1960 and 19 with a 2.99 ERA in 1963. He was just 28 at the time of the trade but elbow problems would derail his career. Broglio went 7-19 with a 5.40 ERA in three years with Chicago.
No. 9: He replaced Stan Musial as Cardinals left fielder. Stan the Man retired after the 1963 season and manager Johnny Keane tried Charlie James and others in left before Brock took over in mid-June. That means that for 37 years, from 1941 to 1979 (omitting 1945 when Musial was in the military), St. Louis had a Hall of Famer in left field (although Musial also played first base and right field).
No. 10: He initially objected to being a base-stealer. In The Cardinals Encyclopedia, Brock recalled manager Keane telling him, "We want you to steal bases. Can you do it?" Brock replied, "No. I thought I was a power hitter. (Keane) said that if I wanted to play every day the condition was I needed to steal bases. I said, 'Shoot, I can steal bases.'"
No. 11: He was the missing piece on the '64 Cards. St. Louis won the NL pennant by a single game over the Phillies and Reds. Brock hit .327 in July, .327 in August, and .364 with a .990 OPS from Sept. 1 to Oct. 4. "We couldn't have won in '64 without him," said White. "No way."
No. 12: He led the NL in steals eight times. Brock stole 74 bases in 1966 and led the league every year till 1974 except for 1970, when his 51 swipes were second to the Reds' Bobby Tolan, a former Cardinal teammate who stole 57.
No. 13: He was a terrific postseason performer. In 21 World Series games, Brock hit .391 with a 1.079 OPS. He stole a record seven bases in the 1967 WS and tied that mark with seven in 1968. Brock's 14 World Series steals are tied for most with Eddie Collins, and he was caught just twice.
No. 14: He was MVP runner-up in 1974. That's the year he stole 118 bases, breaking Maury Wills' record of 104 steals in 1962. He finished a close second in MVP voting to the Dodgers' Steve Garvey, who had 270 vote points compared to 233 for Brock.
More from St Louis Cardinals History
No. 15: He wasn't the best outfielder. Brock led the NL in outfield errors seven times (1964-68, 72-73). On the plus side, he led the league in left field range factor four times (1965-68).
No. 16: He broke the all-time steals record in 1977. Ty Cobb, with 897, had held the steals record for 49 years. Brock finished his career with 938 steals.
No. 17: His career appeared over in 1978. In his penultimate season, Brock hit just .221 with a .263 on-base average and a .514 OPS in 92 games. He was 39 years old.
No. 18: He was named Comeback Player of the Year in his final campaign. Brock was the first player to win the award in his farewell season. At 40, he hit .304 and reached the 3,000-hit plateau.
No. 19: He made the Hall of Fame on his first ballot in 1985. Brock received 79.7 percent of the vote, eclipsing the mandatory 75 percent required for admission.
No. 20: He co-wrote a speech for Rickey Henderson. Tim Kurkjian reported that Brock and Henderson became close as the A's outfielder was closing on Lou's all-time steals record. They collaborated on a speech that Henderson was to deliver when he set the record, but Rickey forgot all about it and instead said, "Lou Brock was a great base stealer, but today I am the greatest of all-time."
Lou Brock was a great Cardinal, and a great man. If you're too young to remember this dynamic Redbird — and you probably are — check out this, and this.