St. Louis Cardinals News: It's time to play 60 games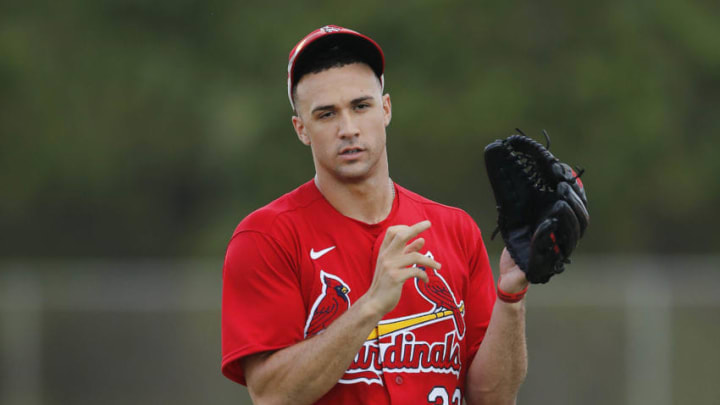 JUPITER, FLORIDA - FEBRUARY 19: Jack Flaherty #22 of the St. Louis Cardinals looks on during a team workout at Roger Dean Chevrolet Stadium on February 19, 2020 in Jupiter, Florida. (Photo by Michael Reaves/Getty Images) /
There are no more financial negotiations to be done, the wait is over. The St. Louis Cardinals will be playing 60 games in 2020.
After all the mess we've been through, the wait is over on plans for the 2020 St. Louis Cardinals season.
On Monday, the MLBPA voted to reject the MLB's proposal for the season, forcing Rob Manfred to implement a season.
In a measure of good faith, that season is going to be for the same 60 games, rather than a shorter 48 or 50-game season.
That's right, in just seven days, there will be baseball activities going on at Busch Stadium with a season starting on July 24th.
In rejecting the proposal, the MLBPA chose to take a path that led them away from a lot of certainties.
https://twitter.com/baueroutage/status/1275261168118972418?s=21
The MLBPA clearly held the right to file a grievance very highly, and according to Jon Heyman, that right could get players up to $900M if they won a grievance. That's a dangerous game though because the players would have to find a way to prove in court that the owners were purposely stalling the season to play fewer games.
As Bauer mentions, the players gave up a lot to deny the owners' deal. While the deal would've had some things like the expanded playoffs and DH for both 2020 and 2021, there were lots of assurances to help the players.
I think a lot of the initial reaction was nihilistic, but thinking about the current situation as the players rejecting alterations to their already agreed-on deal is the best way to think about it. The players did choose to not improve labor relations at all, but hopefully a grievance isn't coming after the season was still implemented at 60 games.
It wouldn't be surprising to see the two sides agree to implement the DH in 2020 as well as the expanded playoffs with some sort of revenue sharing pool. It would be a good starting point for the CBA negotiations if the two sides could agree on something small to augment the 2020 season, but if one thing has been clear from all of this, nothing is going to come easily.
While the end wasn't exactly pretty, the negotiations are over and baseball is once again on the horizon. In a perfect world, the season would be starting in seven days, not spring training, but at least we won't have to deal with the public roller coaster for the immediate future. There won't be fans, but baseball will soon be back. We can all smile about that.