The best and worst moments of the 2010s for the St. Louis Cardinals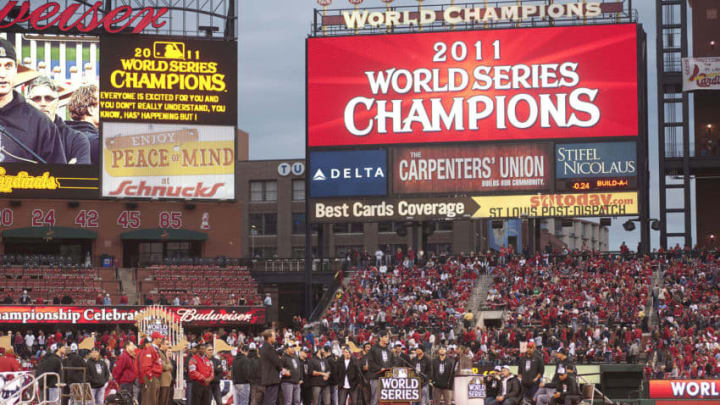 ST. LOUIS, MO - OCTOBER 30: Third baseman David Freese of the St. Louis Cardinals takes the podium during the World Series victory parade inside Busch Stadium on October 30, 2011 in St Louis, Missouri. (Photo by Ed Szczepanski/Getty Images) /
DENVER, COLORADO – SEPTEMBER 12: Kolten Wong #16 of the St Louis Cardinals runs down the baseline after hitting a double in the fourth inning against the Colorado Rockies at Coors Field on September 12, 2019 in Denver, Colorado. (Photo by Matthew Stockman/Getty Images) /
5th Worst: Kolten Wong picked off in 2013 WS
In Game 4 of the 2013 World Series, Mike Matheny made a situational decision to pinch-run for the clutch gene Allen Craig after his one-out base knock in the bottom half of the 9th inning of Game 4. When thinking of the 2013 World Series, Cardinals fans usually remember these two things for sure: when Allen Craig made a wild dash after tripping over Will Middlebrooks and scored to win the game on a defensive interference (WILD) and Wong getting picked off to end Game 4.
I have never in my life felt worse for an MLB player in my entire life.
Every fan in St. Louis was likely blaming him for getting picked off when his run did not even mean anything in a two-run game. So why did he get picked off? Why was he so far off the base?
Bottom line is that Koji Uehara had one of the fastest and most incredible pickoff moves I have ever seen. Wong trips and is a half step late. Bottom line, game over. Cardinals had no momentum after that and ended up losing Game 5 at home and Game 6 at Boston to lose the series. Nobody logically blames Kolten Wong for losing the World Series to the Red Sox but nevertheless, after that point, the Cardinals looked dead.
That poor kid got blasted by the media and he owned up to everything and even made a public apology to the organization and the fans for getting picked off. Absolutely a sad moment for the Cardinals but Kolten has looked past it and put together a respectable career and is making people remember him more for the defensive wizard that he is rather than "the pinch-runner who lost the Cardinals the World Series."